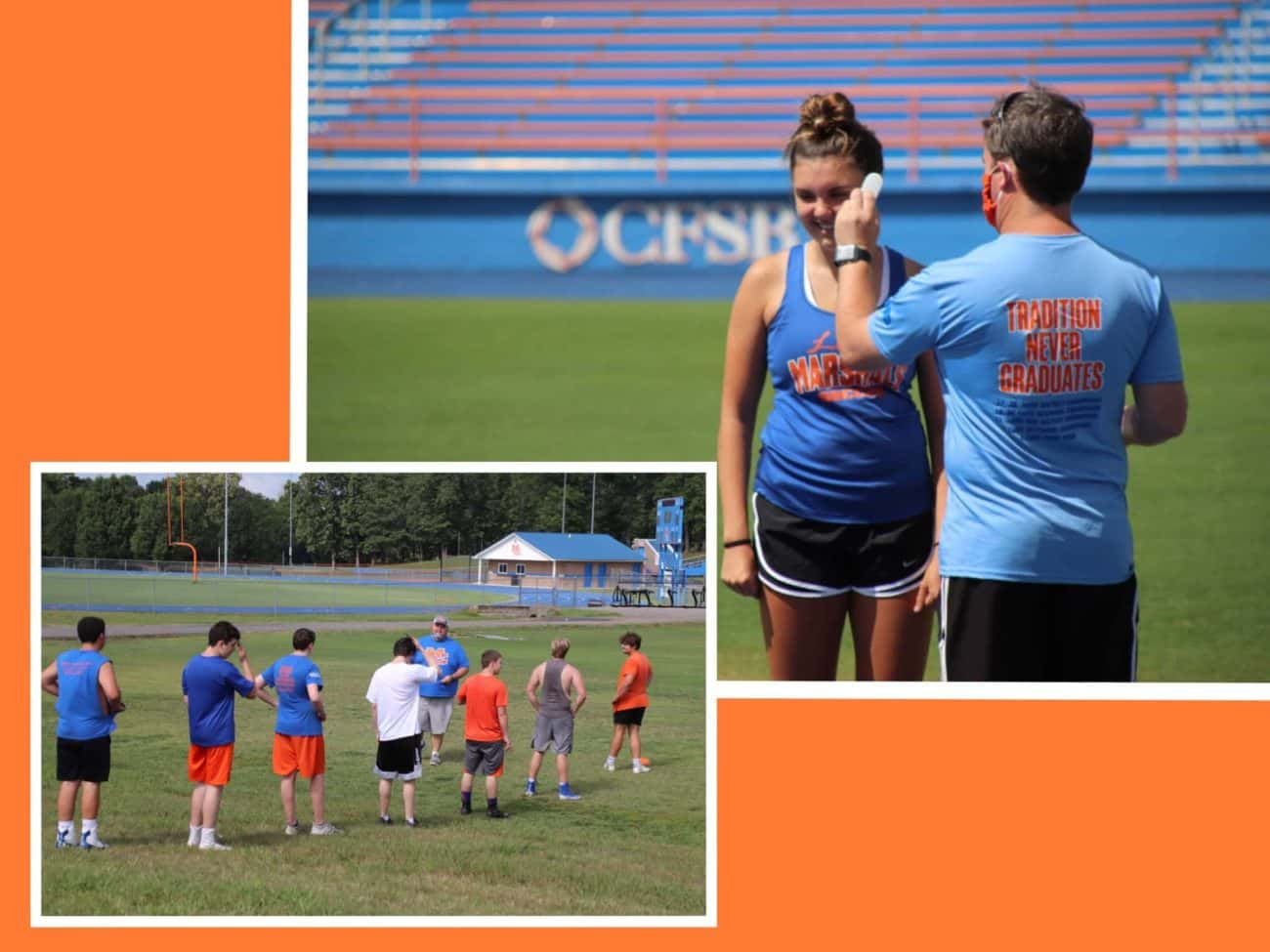 Hopeful that the fall sports season will begin on time, high school student-athletes and coaches are adapting to the phasing in guidelines of the upcoming season due to the COVID-19 pandemic, a "new normal" we can all hope will be temporary.
Starting June 15, high-impact sports like football and soccer were allowed to begin workouts and conditioning in groups of 10 or less with one coach. Under the "Healthy at Work" guidelines for the state of Kentucky, no competition is permitted and skills training must be socially distanced.
Marshall County High School's athletic fields are showing signs of a fall sports season with athletes starting the process of getting back into shape and enjoying "socially distanced" conditioning with teammates.
Coaches have had to be creative, spreading practices throughout the day into the evening to adhere to the current guidelines of 10 athletes to one coach. Temperatures of each athlete must also be taken and recorded prior to each session.
Starting June 29, high touch, outdoor sports may resume team/group practices without competition. Athletes must still be "divided into small groups of 10 or fewer, with no more than one adult coach per group, while following social distancing guidelines. Team practices will be limited to 50 or fewer, limited to low touch, medium sharing activities and must adhere to the social distancing guidelines to the greatest extent practicable at all times."
The KHSAA board voted to eliminate the June 25-July 9 traditional summer dead period in their May 28 meeting.
The board also stated they believe it is essential to the physical and mental well-being of students to return to physical activity and athletic competition…so now the waiting game on a decision about starting the season, which could come as early as next week.
A few photos below of football and girls soccer workouts taking place Tuesday morning on the Marshall County High School campus.