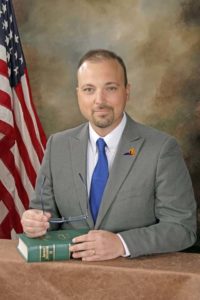 Benton/Murray, KY (May 27th, 2020) – Circuit Judge Jamie Jameson and the staff of the Drug Courts for Marshall and Calloway Counties have set this year's graduation for Drug Court participants for Thursday, June 4th, 2020 at 8:15 PM, but this year it has a COVID twist. Instead of using a public building, the graduation will be held drive-in style at the Calvert City Drive-In theatre on Hwy 95 near Calvert City. The public and all public officials are invited to come and support these members of our community as we celebrate their sobriety and re-entry into society as contributing citizens.
"At this time of mostly bad news on the television, our team wanted to let the community know that good things are still underway every day here in the fight against addiction. Our drug court team has never stopped working with our participants throughout this crisis. As a result, these men and women are ready to get back into life, sober, and happy," said Circuit Judge, Jamie Jameson.
"We invite the members of the community that are interested in recovery, a problem that affects us all, to come join us June 4th at the Calvert Drive-In and see what we're about," stated Jameson. "Our drug court team is very proud of the individuals that will be graduating. It's important for members of the community to encourage these graduates as they transition; important for the graduates, but also important for the community. I would also like to extend my sincere gratitude to John Harrington, owner of the Drive-In for allowing us to use the facility. To my knowledge, this will be a one-of-a-kind event," continued Jameson.
Drug Court is a court-administered program developed by the Kentucky Administrative Office of the Courts (AOC) several years ago to address the growing drug addiction problem in Kentucky. The program is an intensive 2 year program. Circuit Judge Jamie Jameson serves voluntarily as chief administrator of the Marshall & Calloway drug courts. However, the program is administrated by two separate county-specific panels consisting of representatives from Marshall & Calloway Sheriff's offices, probation & parole, the Commonwealth attorney's office, drug court staff, and a representative of the Ky. Dept. of Public Advocacy.