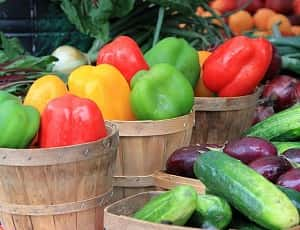 The Marshall County Farmer's Market opened for business last Saturday and will be open each Saturday from 8:00AM – Noon. The Farmer's Market runs on Saturdays throughout the "growing season" and is located at the Marshall County Extension Office, 1933 Mayfield Highway in Benton.
Please review the following guidelines if you plan to attend!
Temporary Guidlines due to COVID-19:

– At this time, products are limited to: food items, gardening supplies (such as bedding plants and flowers) and hygiene products.
-Venders and shoppers must practice social distancing and follow current CDC guidelines.
-Only one "family" or shopper needs to visit a booth at a time. Others needs to wait for their turn, preferably in their vehicle.
-Venders must sanitize frequently-touched surfaces and hands often.
– Venders need to designate one person per booth who is wearing sanitary gloves to handle money and another to handle food or products, if possible.
-Venders need to setup at a minimum of three parking spaces apart.
-If a vender or shopper is sick then they need to stay home.
-There will be no cooking demonstrations or sampling until further notice.
-Do not use reusable shopping bags. Only new bags during this time.
-Shoppers, please do to touch products you are not purchasing.
*Thank you for following these guidelines! The safety of our venders and shoppers is our number one priority!