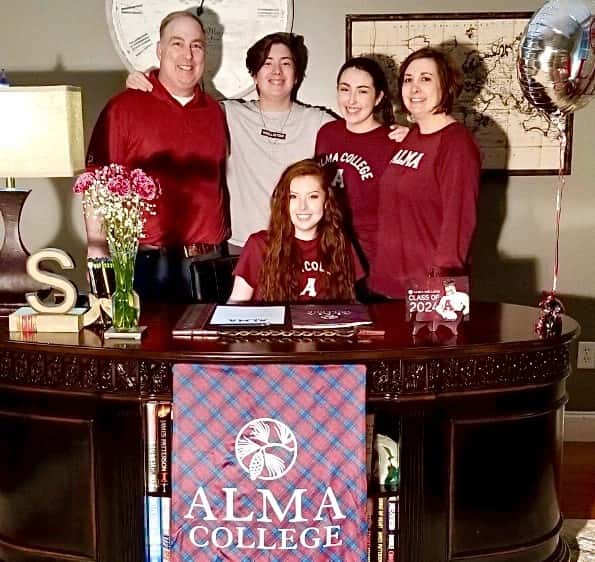 Abby Strait, a four-year member of the Marshall County Dance Team, has signed to continue her dance and academic career at Alma College in Alma, Michigan. She was accepted to all the colleges she auditioned and applied for but felt that Alma College was the best fit for her.
Abby was accepted into the Honors Program, Alma Dance Company and Alma Dance Team. She signed with Alma College on May 5, supported by family and friends through Zoom and fellow dance team members "socially distanced" on the lawn.
Like many collegiate sports, the Alma College Scots Dance Team's spring schedule of competitions was interrupted. Last summer, in just their second year, the team earned its second consecutive Gold Bid to the National Dance Association (NDA) National Competition at the NDA College Camp at the University of Louisville, qualifying them for the National Championship in Daytona Beach, Fla., scheduled for this April.
Last spring, the team won the National Dance Alliance (NDA) Division III Team Performance Championship in Daytona Beach.
Abby is the recipient of several scholarships – Presidential Scholarship, Highland Award, Scholars Summit Award and a Dance Scholarship – all totaling over $130,000.
A Marshall County High School Honor Graduate, Abby plans to major in Business, Dance and Psychology while at Alma College.