March 25, 2020, Each April National Donate Life Month we celebrate, a ramped-up, month-long initiative to focus attention on the life and death issues surrounding organ/tissue donation and transplantation. Kentucky Organ Donor Affiliates (KODA) and Kentucky Circuit Court Clerks' Trust For Life (TFL) partner with Donate Life America (DLA) to share the importance of donor registration, to honor deceased and living donors, and celebrate the lifesaving and healing gift of transplantation.
"April is when we focus our efforts to educate as many people as possible, that everyone can help save lives," states Shelley Snyder, Executive Director, KY Circuit Clerks Trust For Life and Vice President of Strategic Partnerships, Kentucky Organ Donor Affiliates;
"Becoming an organ and tissue donor takes less than a minute and gives hope to the over 1,000 people in Kentucky who are currently waiting for a transplant. The decision to register as a donor is the first chapter of an extraordinary story, a chapter which can bring life and healing to those in need, their families, and their friends."
During the current COVID-19 pandemic, it is essential to state that becoming an organ donor can be done while social distancing per Governor Beshear's recommendations. Visit www.donatelifeky.org or RegisterMe.org to quickly register as a donor.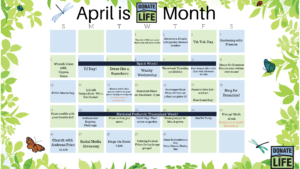 In accordance with social distancing and healthy practices, Donate Life Month will be celebrated virtually via KODA and TFL social media pages. Each day in April, communities are encouraged to participate in the comfort of their home. Highlighted events include:
• April 10, 6 p.m. EST: Fireside Chat with Aftercare
• April 13: Life Lift Competition (Win a Yeti Cooler)
• April 15, 6 p.m. EST: Donation Class with Lauren Salyer
• April 17, 10:08 a.m.: Pause to Give Life Flag-raising
• April 26, 10 a.m. EST: 'Church' Service with kidney recipient and donor family, Andreas Price
• April 29: Coloring Contest
• April 30: Donor Remembrance Day (https://www.aopo.org/donor-remembrance-day/)
To celebrate National Donate Life Month, people across Kentucky, Indiana and West Virginia who have been touched by the Donate Life mission are invited to participate in the Gift of Life Stories project. The Gift of Life Stories project is a collection of personal testimonials that brings awareness year-round to the great need for organ donation and the miracle of transplantation.
These stories include transplant recipients, friends, and family of recipients, donor family members or friends, patients and family/friends of those on the transplant waiting list, family/friends of those who have lost their lives waiting, and living donors. Advocates from all states are welcome. These inspirational stories can be seen on the online dedication wall at https://donatelifeky.org/stories/.
It is the hope of Kentucky's Circuit Court Clerks that sharing these personal stories will inspire everyone to join the registry online via www.donatelifeky.org.
We will honor this month on Friday, April 17 is National Donate Life Blue & Green Day. The day when the public is encouraged to wear bright blue and green Donate Life colors to spread awareness about organ and tissue donation and transplantation. There is also a public Blue & Green Day photo contest through the Donate Life America Facebook page at https://www.facebook.com/DonateLife/ for everyone to show their creative blue and green spirit. More information and public resources are available at https://www.donatelife.net/blue-green-day/.
###
About Kentucky Organ Donor Affiliates
Kentucky Organ Donor Affiliates (KODA) are dedicated to saving lives through organ and tissue donation and transplantation. KODA was formed in 1987, to pull together two hospital-based organ procurement groups, to establish a statewide educational and procurement network. KODA is an independent, non-profit organ and tissue procurement agency and was recognized by Louisville Business First as the Nonprofit of the Year in 2011. KODA currently serves 114 counties in Kentucky, four counties in southern Indiana, and two counties in western West Virginia. KODA partners with the Kentucky Circuit Court Clerks' Trust For Life in all public education & philanthropy efforts. For more information, visit http://www.kyorgandonor.org.
About Kentucky Circuit Court Clerks' Trust For Life
The Kentucky Circuit Court Clerks' Trust For Life (TFL) is a 501c (3) non-profit organization that informs, educates, and encourages Kentuckians to be registered organ & tissue donors to save lives. TFL was founded in 1992 as the charitable arm of the Kentucky Association of Circuit Court Clerks. The dollar donations at Circuit Court Clerks' Driver's License counters and other philanthropic partners, including KODA and Kosair Charities, fund the statewide community outreach & public relations efforts to grow the registry. Donate Life America recognized Kentucky for the highest increase in Registry rates in 2016. For more info, call 1-866-945-5433, email info@trustforlife.org or visit www.trustforlife.org.
About Donate Life America
Donate Life America is a 501(c)3 non-profit organization leading its national partners and Donate Life State Teams to increase the number of organs, eyes, and tissues available to save and heal lives through transplantation. While developing a culture where donation is embraced as a fundamental human responsibility. DLA manages and promotes Donate Life℠, the national brand for the cause of donation; motivates the public to register as organ, eye, and tissue donors; provides education about living donation; manages the National Donate Life Registry at RegisterMe.org. Founded as the Coalition on Donation in 1992 by the gift of organ and tissue transplantation community, Donate Life America changed its name in 2006 in response to extensive research and the desire to align the organization with the Donate Life brand. Over the past 25 years, Donate Life America and the Donate Life Community have registered 156 million organs, eye and tissue donors in the United States – more than 60% of the adult population.