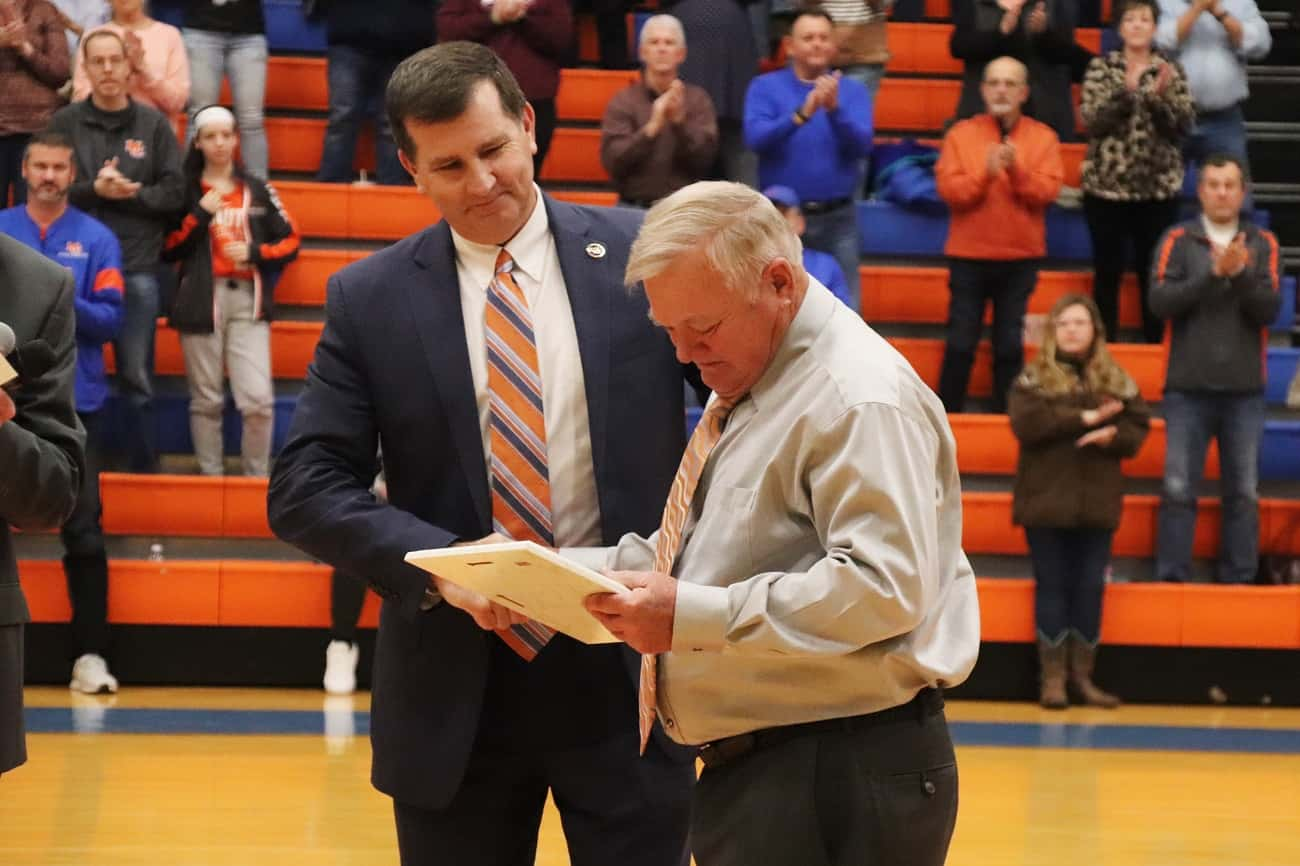 "A lot of people get courts named after them but they aren't Marshall County High School", Coach Howard Beth said at center court of Reed Conder Gymnasium when he was honored with a plaque commemorating the naming of the floor "Coach Beth Court".
In his 30 years leading the Lady Marshals, Coach Beth became the most successful coach in Kentucky girl's basketball history with a record of 794-149, winning 23 District Championships, 10 Regional Championships, 19 appearances in the Sweet 16 and two State Championships in 1982 and 1984. His 1984 team went 34-0 and remains the last undefeated team to win the state title.
In 1994, Coach Beth was inducted into the KHSAA Hall of Fame and is a member of the Kentucky High School Basketball Coaches Association Court of Honor. In 2010 he was inducted into the Marshall County Athletic Hall of Fame and in 2017, the Kentucky Athletic Hall of Fame.
Beth thanked his family for all their support through the years, the players, his assistant coaches and the fans.
"The kids earned the honors…the things they did and they accomplished", Beth said. "How they conducted themselves on and off the basketball court has meant as much to me as anything else."
"We've had so many great players that have come through the program and gone on to do wonderful things. Not only great things have happened on this court, great things are happening now and great things will happen in the future."
With son Aaron on the sidelines as Lady Marshals interim head coach, the two embraced before Coach Beth went out to center court to receive the recognition from Superintendent Trent Lovett and WCBL Sports Director Jeff Waters.
"The kids at Marshall County are a special group of kids that want to win, know how to win and it's just a special place to coach", Beth said. "Having a court named after you at a place like Marshall County is really something."