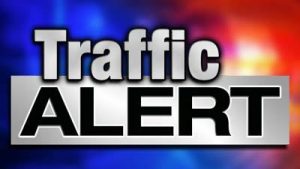 PADUCAH, Ky. (Feb. 12, 2020) — Paducah 911 Dispatch reports a crash involving a SEMI and a passenger vehicle between the 2 and 3-mile marker along the eastbound lanes of Interstate 24 just off the Kentucky end of the I-24 Ohio River Bridge between Paducah and Metropolis.
The truck and passenger vehicle are reported off the roadway and not blocking traffic.  However, due to the emergency response, traffic is restricted to one lane in this area.  The truck is reported to be hauling food products than may have to be offloaded.
Eastbound traffic on I-24 is backed up due to the lane restriction.  Eastbound motorists traveling from Illinois into Kentucky should be alert for slowing and stopped traffic as they approach the Metropolis Exit.
Estimated duration is 3 hours.
Passenger vehicles may self-detour via the U.S. 45 Ohio River "Brookport" Bridge to avoid the backup.  As a reminder, the U.S. 45 Ohio River "Brookport" Bridge has a 15-ton load limit, an 8 ft. vehicle width restriction and a 9.5 ft. Height restriction which prohibits most commercial trucks and all STAA trucks.
Updates as appropriate.
Timely traffic advisories for the 12 counties of KYTC Highway District 1 are available by going towww.facebook.com/kytcdistrict1. You do not have to be a Facebook member to access this page.
Navigate traffic at goky.ky.gov, at waze.com, or with the WAZE App.