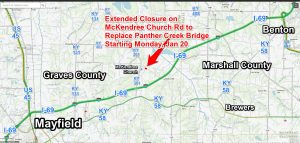 PADUCAH, Ky. (Jan 14, 2020) — A contractor for the Kentucky Transportation Cabinet (KYTC) plans to close a section of McKendree Church Road in Graves County starting Monday, January 20, 2020.
McKendree Church Road (County Road 1088) will be closed to allow construction of a new bridge over Panther Creek.  This closure is about 3/10ths of a mile east of the KY 301 intersection near McKendree United Methodist Church in eastern Graves County.
This closure is expected to be in place for up to 90 days.  That puts the target completion date at about April 15, 2020.  The contractor will provide timely notice to KYTC engineers when the roadway is reopened.
Jim Smith Contracting of Grand Rivers is the prime contractor.  This project is part of a $2,795,842 Bridging Kentucky Project that includes 10 bridges in various KYTC District 1 counties. 
The Bridging Kentucky Project is a $700 million program aimed at replacing or rehabilitating about 1,000 deficient bridges over about a 6-year period.  For more info go to www.BridgingKentucky.com.
Timely traffic advisories for the 12 counties of KYTC Highway District 1 are available by going to www.facebook.com/kytcdistrict1. You do not have to be a Facebook member to access this page.
Navigate traffic at goky.ky.gov, at waze.com, or with the WAZE App.