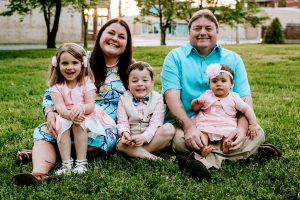 Catherine S. Fuller was born in Ohio but has called Kentucky, specifically Marshall County, her home for the last 30 years. She obtained her undergraduate degree from Murray State University with a Bachelor of Arts in political science and paralegal studies. She received her law degree from Salmon P. Chase College of Law before clerking for a local Circuit Court Judge. She accepted a position with the Paducah office of Kentucky Legal Aid in 2005 to pursue her passion for public service career as the Family Court Judge in Marshall And Calloway Counties.
She has been fighting for justice for the people in this area for the past 15 years. Licensed since 2008, she primarily handles cases involving survivors of domestic violence, complex divorces, extensive custody cases, protective orders, child support and adoptions. She is licensed to practice law in Kentucky, the Western District of Kentucky, and the United States Supreme Court. She handles roughly 300 cases each year and has a wealth of knowledge to make her the most qualified candidate for judge.
In addition to Catherine's dedication for public service, she is committed to assisting the community by serving on the Board of Directors of several non-profit agencies. She assists attorneys, judges and the law students with mental health and substance abuse issues through volunteering with the Kentucky Lawyer Assistance Program (KYLAP) using her experience with addiction and recovery. She is the Kentucky 1st Judicial District representative for the area with KYLAP and sits on the Board of Trustees for the Kentucky Lawyer Assistance Foundation, assisting in forgivable loans for life-saving treatment to lawyers in need. She is a member of the Board of Directors for the Merryman House, a local domestic crisis shelter, and uses her experience and knowledge to help the community.
Catherine has been married to her husband Brad Fuller, for 13 years. They are a state-approved foster home and have 3 adorable children. They are a Christian family with a heart of service and a love for God. Catherine will utilize her compassion, dedication, and experience to make Family Court a fair and impartial place for families to receive the justice they deserve. She and her family appreciate your vote and support in this election