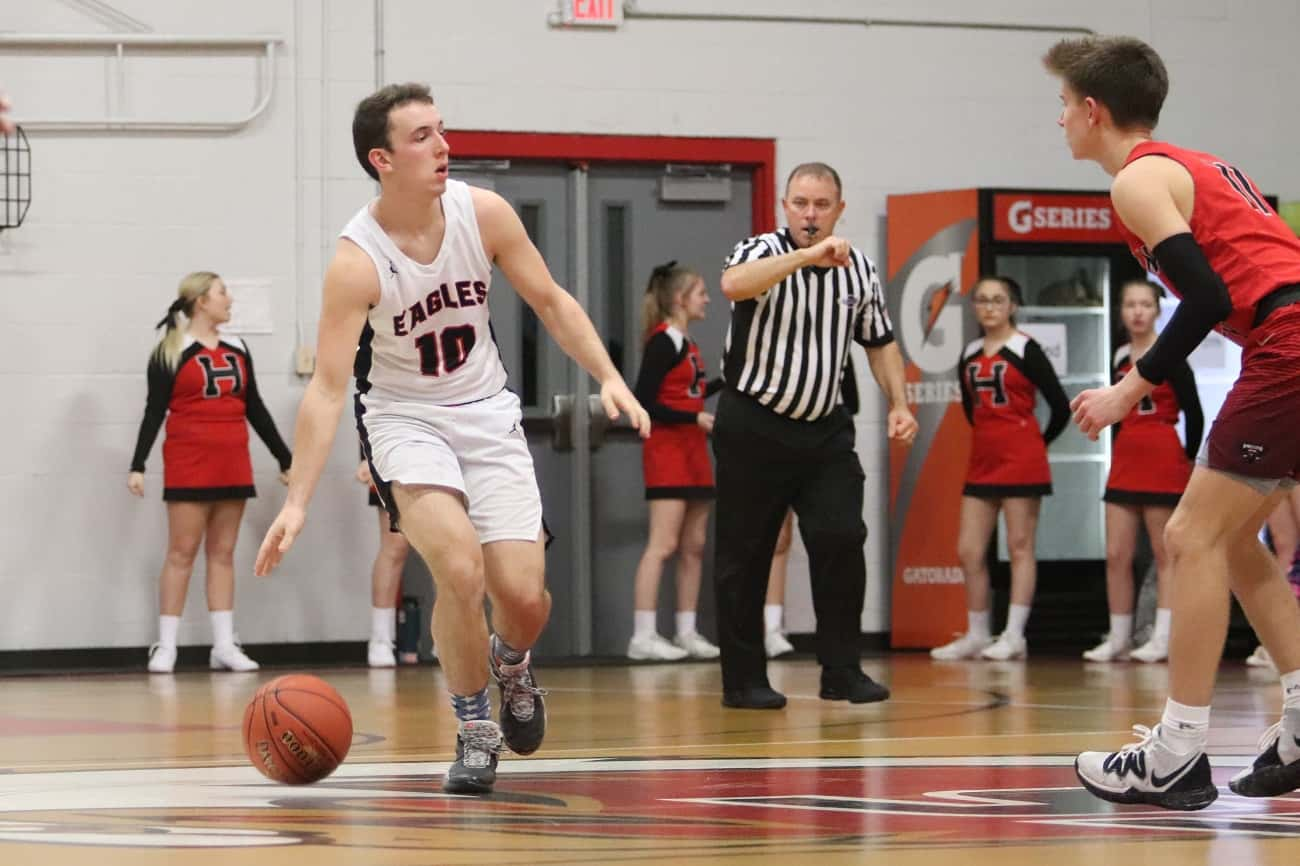 Christian Fellowship improved to 7-5 following Tuesday nights 77-60 win over Hickman County. The Eagles have won three straight since their three games in Whitefield Academy's Christmas Tournament Dec. 27-28. Along with the win over Hickman County, two other wins have come over Evangel Christian 77-52 and CCA 70-43.
Led in scoring over Hickman County by Ari Phillips with 21 points, the fast-paced play of the Eagles led to three other players in double-figures including Andrew Allen scoring 18, Andrew Dunning with 15 and 11 from Mikey Bivin. CFS trailed 2-0 after the opening tip on a Hickman County basket from Kaleb Harper who scored 17 points for the Falcons. They tied it on a basket by Mickey Bivin and Phillips with the go-ahead basket gave the Eagles a lead they never relinquished, leading 20-7 at the end of the first quarter.
Hickman County fired up their offense in the second quarter, out-scoring CFS 16-14 to cut the halftime lead down to 11 points at 34-23. The majority of the Eagles first half scoring was spread around by Phillips, Dunning, Allen and Bivin, all four with a basket from beyond the arc.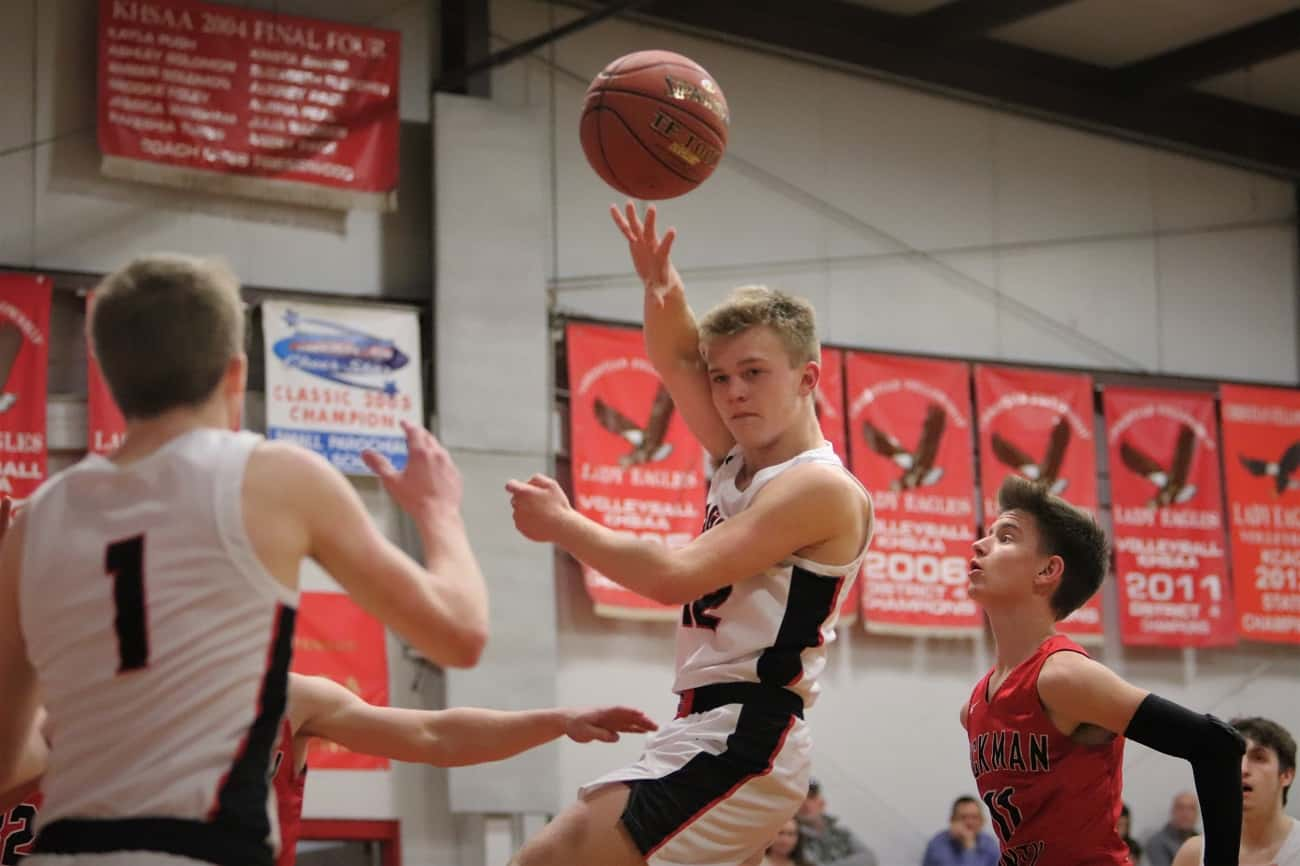 Allen opened the second half with a 3-pointer, followed by free throws from Phillips to lead 39-23. Nine of the Eagles 20 points in the third quarter came from Phillips on their way to out-score Hickman County by seven to extend their lead to 54-36.
Dunning led the Eagles in the fourth quarter with eight points followed by six from Allen. CFS led by as many as 23 points in the fourth quarter on their way to picking up their seventh win of the season.
CFS plays a double-header at St. Mary on Thursday, the Lady Eagles tipping off at 6:00 followed by the Eagles at 7:30. Friday they begin play in the All "A" Classic at Mayfield against Fulton City at 6:15.
Hickman County    7   23   36   60
CFS                             20   34   54   77
Scoring:
Hickman County: #13 18, Kaleb Harper 17, Eli Prince 10, Cameron Johnson 8, Sam Dodson 3, Dylan Hicks 2, Tommy Guess 2
CFS: Ari Phillips 21, Andrew Allen 18, Andrew Dunning 15, Mikey Bivin 11, Isaac Hovekamp 6, Drew Cary 2, Jackson Futrell 2, Luke Grigg 2
Hickman County: 2FG 22/38, 3 Pt 0/17, FT 16/27, Reb 35, TO 23, Ast 15, PF 18
CFS: 2FG 23/46, 3 Pt 6/15, FT 13/19, Reb 36, TO 18, Ast 22, PF 20

---
Dec. 28 – CFS 77, Evangel Christian 52
Scoring: Luke Grigg 14, Andrew Allen 13, Ari Phillips 10, Andrew Dunning 9, Drew Cary 8, Jackson Futrell 7, Isaac Hovekamp 7, Mikey Bivin 5, Samuel Bowers 2, Beau Wilson 2
FG 31/66, 3 Pt 7/15, FT 8/12, Reb 42
---
Jan. 3 – CFS 70, CCA 43
Scoring: Andrew Allen 18, Andrew Dunning 13, Mikey Bivin 12, Drew Cary 8, Luke Grigg 8, Beau Wilson 4, Ari Phillips 3, Isaac Hovekamp 2, Carter Space 2
FG 24/56, 3 Pt 6/12, FT 16/24, Reb 26