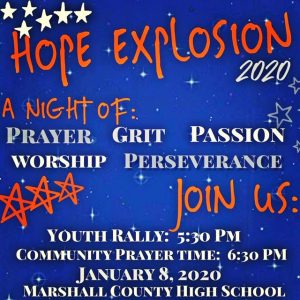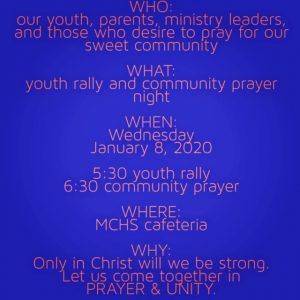 Marshall County's First Hope Explosion 2020
Mark your calendars Marshall County!
Do you have a stirring desire to see God move among our youth, your home, our schools, our churches, our businesses, our community, and beyond?
If this is you, our local churches are asking you to show up in unity and be a part of this special prayer event.
Our community has experienced tragedy and loss.
BUT-
The word of God tells us that in Christ, we remain strong.
Let us show up and BE the church for our youth and our precious community just as Jesus would.
Let our feet walk out what our mouth speaks as truth.
In Christ, Marshall County will SHINE where darkness falls!
John 1:5
The light shines in the darkness, and the darkness has not overcome it.
*Local churches: please send a ministry group to surround our youth with support and prayer.
If you have questions, feel free to reach out here or call:
270-493-1188
This is the best way we know to get the word out to our community.