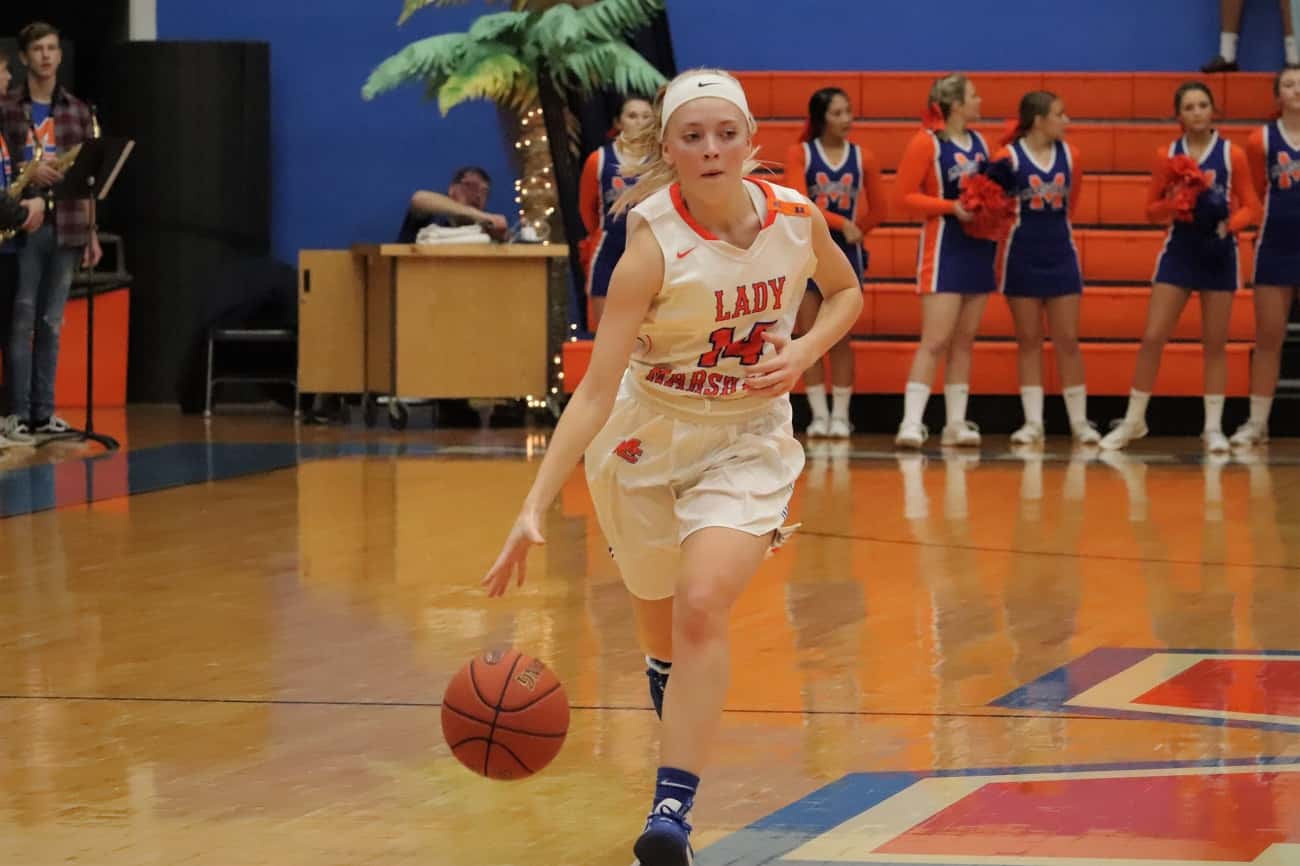 The Lady Marshals last win over Murray came on Mar. 10, 2014 to win the First Region Championship after losing twice to the Lady Tigers during that regular season. Since then, Murray has won the last 15 straight but that streak came to an end Tuesday in Murray.
Down by one at the end of the first quarter, the Lady Marshals pulled ahead to lead by one at halftime. They went on to out-score the Lady Tigers 40-18 in the second half to win 65-42. Cayson Conner led with 18 points and Halle Langhi had 17. Murray's Makenzie Turley had 19 points.
Marshall County  10   25   45   65
Murray                      11   24   39   42
Scoring:
Marshall County: Cayson Conner 18, Halle Langhi 17, Jada Driver 10, Presley Jezik 10, Layne Pea 6, Maddie Darnall 2, Hannah Riley 2
Murray: Mackenzie Turley 19, Calli Carver 8, Jamera Jones 8, Angela Gierhart 6, Jade Oakley 1

The Lady Marshals lost to Carterville, Ill. 57-46 on Dec. 14 before the win over Murray. They will play three games in the Russellville Food Bank Classic starting Wednesday against Todd County Central at 6:00 and games on Dec. 21 and 22 against teams to be determined.
---
The boy's game tipped off first at Murray High on Tuesday. The Marshals last win over Murray coming three seasons ago on Feb. 22 in the Fourth District Championship. Marshall County expanded their five point first quarter lead into a 13 point lead at halftime, holding the margin and out-scoring Murray by just one point in the second half to win 69-55.
Zion Harmon led the Marshals with 29 points and freshman Grant Whitaker led the Tigers with 24 points.
Marshall County   19   38   55   69
Murray                       13   25   40   55
Scoring:
Marshall County: Zion Harmon 29, Jay Nimmo 12, Tyler Powell 12, Tyler Stokes 9, Kaden Driver 4, Bryce Flatt 3
Murray: Grant Whitaker 24, Charvelle McCallister 9, Gabe Taylor 9, Darius Duffy 8, Trey Boggess 3, Charqwan McCallister 2
The Marshals lost to Briarcrest Christian 79-35 on Dec. 14 in the Memphis vs. The World Shootout.
Scoring: Tyler Powell 10, Zion Harmon 9, Bryce Flatt 7, Tyler Stokes 5, Carson Ives 2, Riley Smith 2.
FG 11/43, 3 Pt 4/21, FT 9/13, Reb 19
They will play Fort Myers, Fla. today in Fort Myers at the City of Palms Classic, tipoff at 7:30 EST.