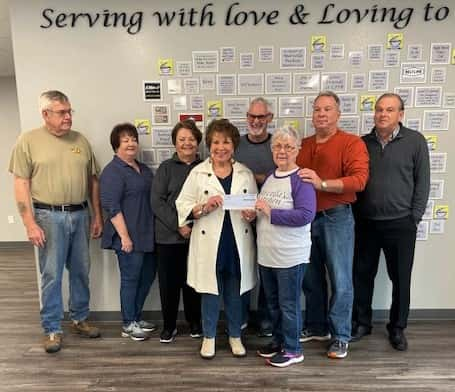 Marcella's Kitchen was blessed to receive an amazing gift of $110,000 presented to Marcella's board by Bonnie McMillin from the J. L. & Miyoko Wheeler Foundation, Inc. on December 9, 2019. The funds are earmarked to pay off the existing $80,000 debt from their facility renovations and the remaining money will be used for a back-up generator so Marcella's Kitchen can be used as an emergency shelter in the event there is a need in Marshall County.
"Thank you Bonnie McMillin and the Wheeler Foundation for your overwhelming continued support", Marcella Perkins said. "We are simply blown away by God's faithfulness to this ministry and the amazing support of our community."
Marcella's Kitchen also received a $1,000 donation from Johnny Bowlin and the Marshall County Elks Lodge and thanks them for their generous donation.
Marcella's Kitchen would also like to thank Lubrizol for their generous donation of $500 and the many canned goods and non-perishables for the Christmas presents for their friends who will be attending the Annual Christmas Party.
"We are so blessed to partner with each or you", Perkins said. "We could not do what we do without you!"