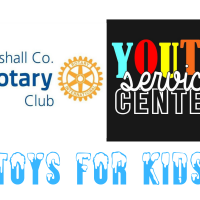 Marshall County Rotary Club has teamed up with Marshall County Youth Service Center this year to sponsor Toys for Kids!  This program starts in mid-October.  All parents who seek assistance must attend a parent workshop or meet with the Youth Service Center coordinator individually.  Applications were collected from parents through November 4th.  The Toys for Kids program is assisting 146 children with Christmas this year in Marshall County.
The Youth Service Center is currently collecting items to distribute to the families next Friday, December 13th.  At this point, they are most in need of items for teenagers and monetary donations.  If you would like to send a monetary donation, you can make the check out to "Marshall County Rotary Club" and mail it to P.O. Box 113, Benton, KY 42025.
If you have any questions, please call Glenda Byers, 270-395-2611 or email glenda.byers@marshall.kyschools.us.