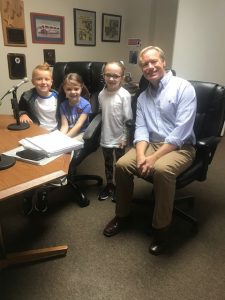 Benton Elementary teacher Misty Green along with some students joined WCBL's Chris Freeland recently on Coffee Call. The students are involved in a project to raise money for some new picnic tables and benches at the Benton City Park. The students are part of Project Based Learning (PBL) and are sending out letters to businesses and individuals in hopes they will donate to the project. You can send donations to Benton City Hall c/o Beth Cooper or Mayor Rita Dotson, 1009 Main Street, Benton, KY 42025. Benton Elementary Principal Lorrie Shadowen also spoke on Coffee Call about a project to purchase a new LED sign for the school. You can sponsor an engraved brick that will be at the foot of the sign. Contact principal Shadowen at 270-527-3373 for more information.
Listen to the full Coffee Call interview by following the link at the bottom of the homepage of marshallcountydaily.com. And listen to Coffee Call live each weekday morning at 8:30 on AM 1290 WCBL and 99.1 FM WCBL.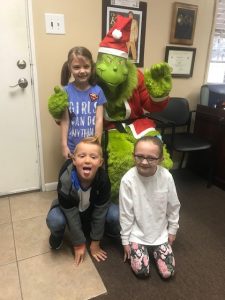 We had a visit from the Grench while the students from Benton Elementary were here today.