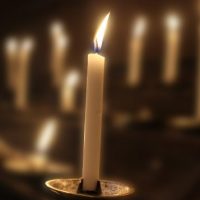 Paducah, KY—Locally owned Milner & Orr Funeral Homes will host the 23rd annual Holiday Service of Remembrance on Saturday, November 23, 2019 at 6 pm at First Christian Church of Paducah. A hope-filled message will be delivered by Pat Pitchford Page while Shawn and Laura Fagin will be performing beautiful music.
This event brings grieving families and friends together to honor their loved ones at this special time of year. The service also provides a place to learn helpful ways to incorporate that special loved one into many family holiday traditions. This is a community wide service that includes a candlelight memorial and video of photographs.
The Remembrance Service is open to all families in our area who have experienced a loss at any time whether the services were held at Milner & Orr Funeral Homes or elsewhere. There is no admission and all attendees receive a special gift. On average, about 400 people attend this event every year.
To learn more about the Holiday Service of Remembrance and Milner & Orr Funeral Homes, please visit www.milnerandorr.com.