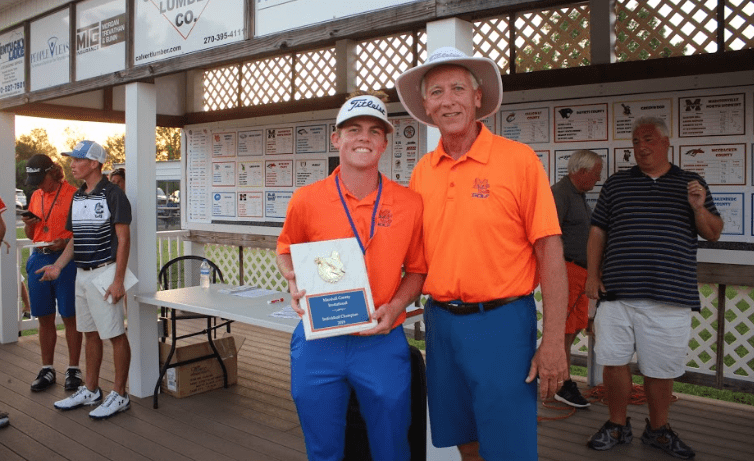 Both the Marshall County boys and girls golf team's successful seasons were rewarded with many honors, including boy's coach Keith Bell selected as the Region 1 Coach of the Year and girl's coach Aaron Beth receiving Coach of the Year honors with two other Region 1 coaches.
Along with his Kentucky Mr. Golf honor and 1st Team All-State, Jay Nimmo was named Player of the Year for Region 1, joined on the All-Region Team by teammates Tyler Powell and Camdyn McLeod.
St. Mary's Margaret Butts earned Player of the Year honors for Region 1. Marshall County's Savannah Howell, who earned 1st Team All-State honors, was selected to the All-Region Team  along with teammate Megan Hertter.
Nimmo and Howell were honored for their state achievements this past weekend at the Kentucky Golf Coaches All-State banquet in Lexington.
Nimmo won the KHSAA State Golf Championship individual title and the Marshall County team finished fourth in the state. Howell finished tied for eighth to lead the Lady Marshals to a third place finish in the state tournament.
Region 1 Boys:
Coach of the Year: Keith Bell – Marshall County
Player of the Year: Jay Nimmo – Marshall County
All-Region Team
Jay Nimmo – Marshall County
Tyler Powell – Marshall County
Ty Gallimore – Calloway County
Tyler Abernathy – Hickman County
Andrew Watson – Mayfield
Camdyn McLeod – Marshall County
Connor Kirkham – McCracken County
Rocco Zakutney – St. Mary
Region 1 Girls:
Coach of the Year: Aaron Beth – Marshall County, Chuck Whitnell – Graves County, Chris Hunkler – McCracken County
Player of the Year: Margaret Butts – St. Mary
All-Region Team
Lauren Gilchrist – Crittenden County
Jessica Stephens – McCracken County
Savannah Howell – Marshall County
Margaret Butts – St. Mary
Megan Hertter – Marshall County
Cathryn Brown – Lyon County
Ellie Roof – St. Mary