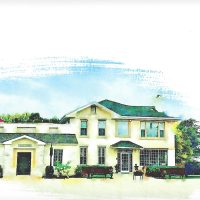 Filbeck-Cann Funeral Home of Milner & Orr will host an open house November 3, 2019 from 1:00pm—4:00pm. The open house will include tours of the newly renovated
facility and answers to any questions. This is a community-wide event.
Filbeck-Cann Funeral Home has proudly served families in Marshall County for generations. Many people remember having their grandparents and parents services in this historic building. This beacon of hope, located on the corner of the court square, continues to bring comfort to many families in our area. The trust and dignity remain the same that the Filbeck and Cann families provided to Marshall County.
"The beautiful changes have been made with one intention—to make the families we serve feel more comfortable and soothed during their difficult days," says Andrea Orr, new owner of Filbeck-Cann Funeral Home.
Some of the updates include new carpet, fresh paint and more natural sunlight illuminating the facility.  Neutral colors tend to bring a calm and relaxed feeling according to experts. Also new to the funeral home is the exterior painting and new lighting.
Visit Filbeck-Cann Funeral Home, 1117 Poplar Street in Benton, to see the positive impact change can provide for your family.