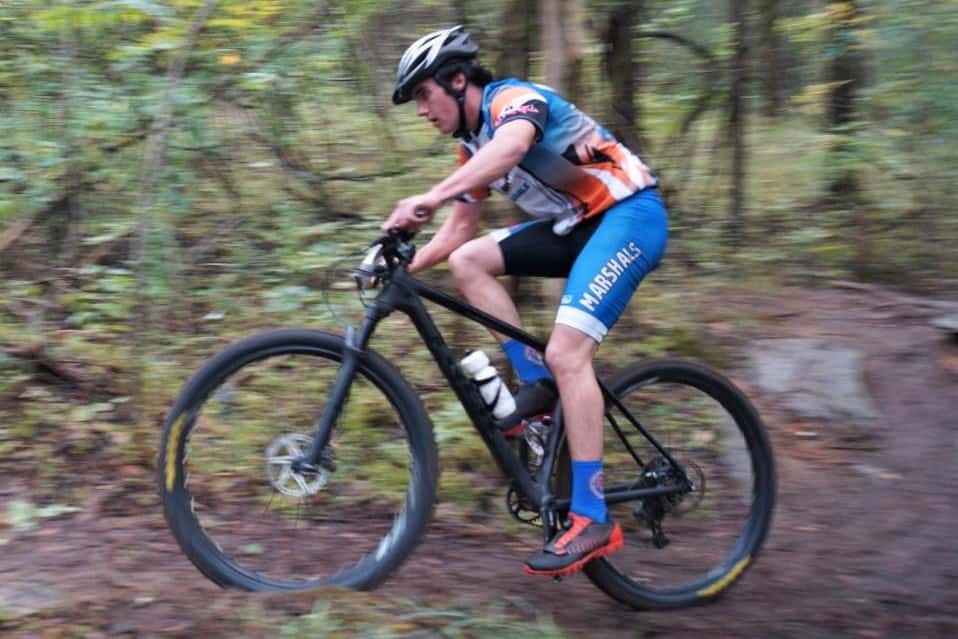 Poised to win their seventh straight Tennessee Cycling League state title, the Marshall County Mountain Bike Team took one step closer after finishing as the top team in Sunday's Race #4 at Panther Creek State Park in Morristown, Tenn. After four of five races, Marshall County is in the top spot overall followed by Williamson County Composite in second and Lock 4 Trailblazers Composite in third among a field of 26 teams.
Marshall County has four riders that lead the individual overall points series heading into the November 3rd State Championship at St. Andrews-Sewanee School in Sewanee, Tenn. They are Presleigh Jennings (Varsity), Olivia Myhand (JV), Chase Binkley (Sophomore) and Allie Burkeen (Freshman).
Thirteen Marshall County riders stepped onto the podium at the end of racing on Sunday. In the girl's Varsity race, Presleigh Jennings took first and Alyssa McClain second. In the boy's Varsity race, Jaxon Story placed second and Clay Austin fifth. Olivia Myhand won the girl's JV race and in the boy's Sophomore race, Chase Binkley took first and Caleb Pahl fifth. Allie Burkeen won the girl's Freshman race and Jace Story took fifth in the boy's Freshman race.
In Middle School races taking the podium, Claire Austin won the 8th Grade race and Aniston Barnes took third. Memphis Ford placed second and Chase Yarbrough fifth in the boy's 8th Grade race. The Middle School team finished second on Sunday and are currently in second overall behind Hamilton and Bradley County Composite with Williamson County Composite rounding out the top three.
Race #5 of the season and the Tennessee League State Championship will take place November 3rd at St. Andrews-Sewanee School in Sewanee, Tenn.
Marshall County Race #4 results:
| | |
| --- | --- |
| GIRLS | BOYS |
| Presleigh Jennings, 1st-Varsity | Jaxon Story, 2nd-Varsity |
| Alyssa McClain, 2nd-Varsity | Clay Austin, 5th-Varsity |
| Olivia Myhand, 1st-JV | Kaden Jameson, 6th-Varsity |
| Allie Burkeen, 1st-Freshman | Carson Denfip, 19th-JV |
| Claire Austin, 1st-8th Grade | Joseph Roberts, 31st-JV |
| Aniston Barnes, 3rd-8th Grade | Chase Binkley, 1st-Sophomore |
| Evie Powell, 4th-7th Grade | Caleb Pahl, 5th-Sophomore |
| Addison Roberts, 4th-6th Grade | Trae Harbison, 12th-Sophomore |
| Emma Roberts, 5th-6th Grade | Marshall Gregory, 24th-Sophomore |
| | Gabe Driskill, 44th-Sophomore |
| | Jace Story, 5th-Freshman |
| | Memphis Ford, 2nd-8th Grade |
| | Chase Yarbrough, 5th-8th Grade |
| | Ty Elrod, 8th-8th Grade |
| | Canyon McKinney, 37th-7th Grade |
| | Braxton Lima, 8th-6th Grade |
| | Bradey Atkins, 12th-6th Grade |
| | Ian Dillon, 18th-6th Grade |