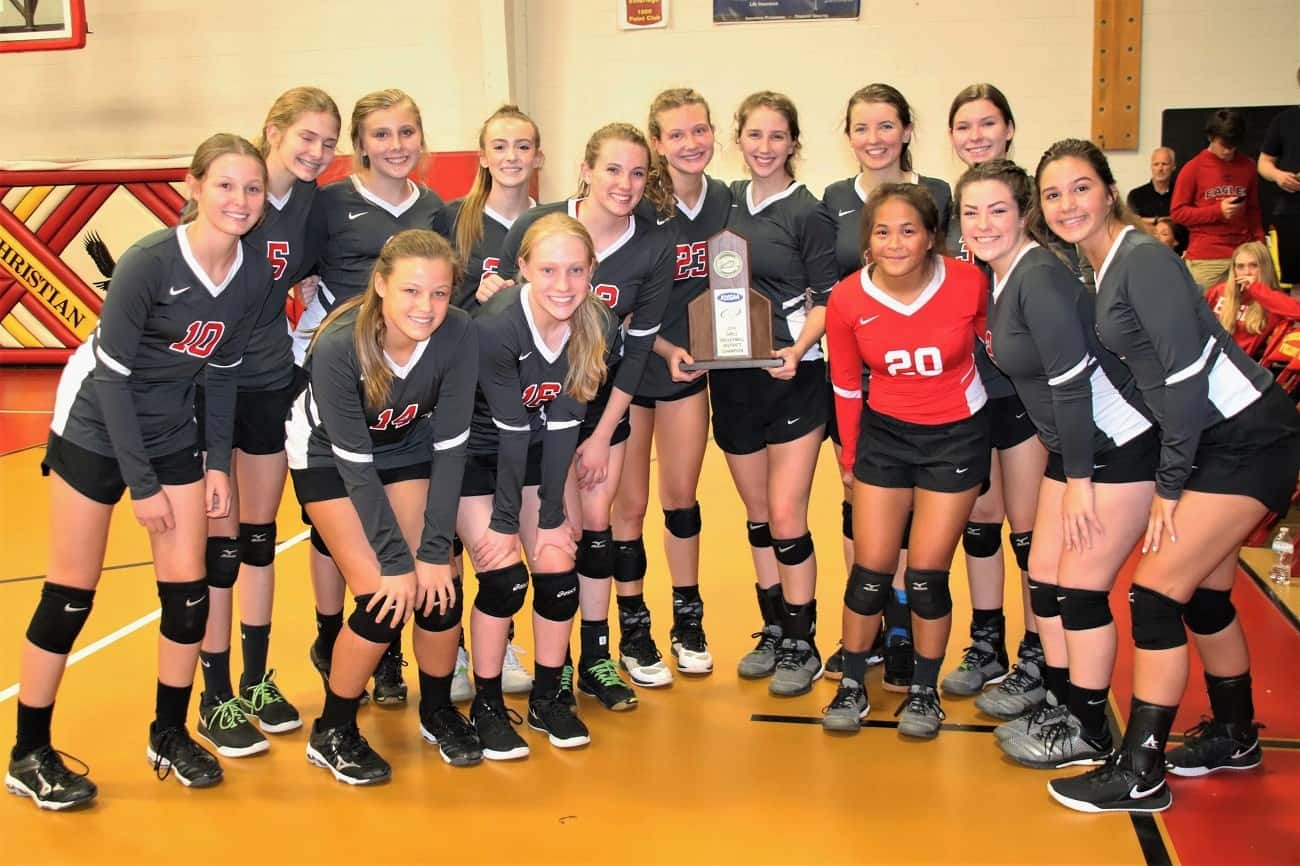 Christian Fellowship won their third straight Fourth District title Tuesday in a three set win (25-17, 25-20, 25-21) over Marshall County at CFS. The last five district volleyball titles have been decided between CFS and Marshall County, the Lady Eagles winning four out of five.
CFS advanced to the title game with a 3-0 win over Murray and Marshall County on a 3-0 win over Calloway County. They split games during the regular season, each winning 3-1.
Down early in the first set, CFS came back to lead 8-5 and stretched it to 13-6 following serves by Abigail Cima that included an ace. A kill by Jessica Hicks stopped the run for the Lady Marshals and a back and forth battle that included two straight kills by Halle Langhi cut the CFS lead to four points at 17-13. CFS continued to hold a lead over Marshall County by five to seven points and took the first set 25-17.
CFS continued their momentum into the second set and went up 5-0 before Marshall County got on the board. A kill by Cima made it an 8-2 game and they kept the pressure on, going up 12-3 on a kill by Emma Fletcher. The Lady Marshals made a run behind several great serves from Clara Bradley to pull to within five points at 18-13.
Marshall County led 2-0 early in the third set before an 8-0 run by CFS put them up 8-2. The Lady Marshals rallied to tie at 8-8 and went up by two points at 10-8 on a kill by Langhi and hit out-of-bounds by Cima. CFS tied it at 13-13 behind kills from Cima and Maggie Wagner, going on to lead by five points at 19-15 and finishing off the set and match on a kill by Cima to win 25-21.
Cima led CFS in kills with 10, Fletcher had seven and Lexi Hovekamp and Wagner with six each. Cima had five aces and two blocks. Emma Alexander had 23 assists and Fletcher and Cima had 11 digs each.
Leading the Lady Marshals, Langhi had eight kills and Hicks six. McKenzie Elkins led in digs with 14, Bradley had 13, Hicks nine and McClain eight. Bradley led in assists with 12 and Petyon Gresham had eight. Bradley led in aces with four.
Both teams will advance to the First Region Tournament to be played at Hickman County.