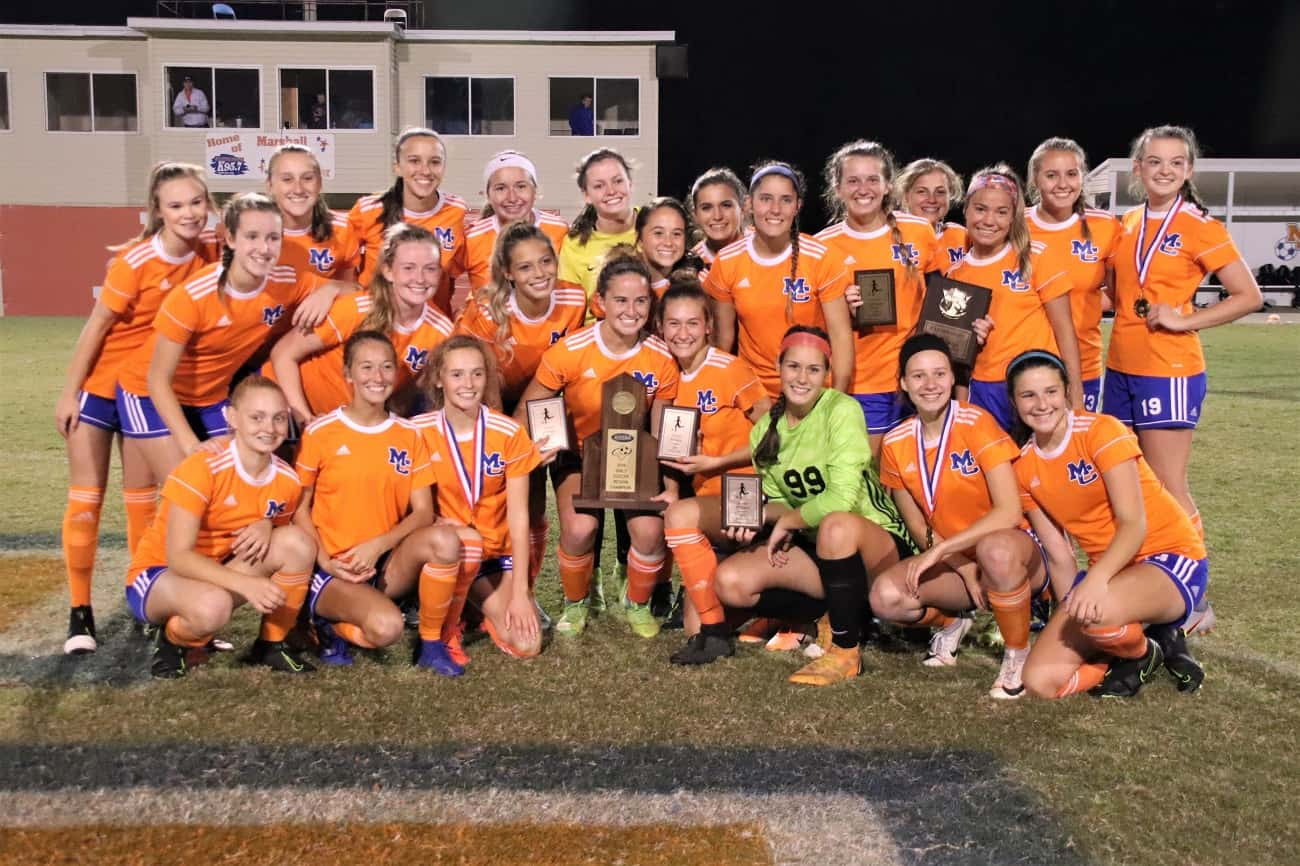 One goal was all it took for the Lady Marshals to win the First Region title over McCracken County Friday at Colburn Stadium. Officially recorded as an "own goal", the ball was headed by Loralei Samson off a corner kick by Janie Pagel and found the goal off the back of a McCracken County player.
The goal, along with the Marshall County defenders and goal keeper Carlen Whirley with several great saves, gave the Lady Marshals their third straight region title and 20th in the program's history. The 1-0 shutout also marked the team's 18th season shutout and Whirley's 17th.
A game much different game than the 5-0 win over the Lady Mustangs during the regular season on September 14th. McCracken County advanced to the title game after beating Calloway County 5-3.
"Watching them play Calloway, I knew they had improved significantly and kind of found their feet a little bit more", Coach Michael Boone said. "I didn't expect it to be 5-0 but I expected us to have a little bit more play in the attack and a couple more quality chances than we got, but to their credit they played hard."
Boone credits the resiliency of his players, saying he told them at the beginning of the year, the defense would carry them as far as they could and carry them they did, allowing only 12 goals from their first game on August 13 to the Region Championship on Friday.
"I'm just excited for the girls…it was a 3-peat for the juniors and seniors but the first one for the freshman so it's exciting for them", Boone said. "We've talked about the progression…when one group leaves the other group comes in. We have had some off years where we haven't made regional tournaments, but those are few and far between. We've got a great core here now and we're looking forward to playing another game."
The Lady Marshals (18-2-4) will play Greenwood in Bowling Green in the Semi-State round, currently scheduled for Monday. Greenwood (19-2-3) beat Bowling Green 2-0 to win the Fourth Region. Marshall County and Greenwood played to a 2-2 tie on September 14th in a game at Colburn Stadium.
Carmen Gunn was selected Co-Player of the Year for the region with Calloway County's Zoe Stom.  Lady Marshals earning All-Region Team selections – First Team: Sofia Bayer, Carmen Gunn, Loralei Samson and Carlen Whirley. Second Team: Tori Ford, Kallen Fuller and Whitley Watwood.