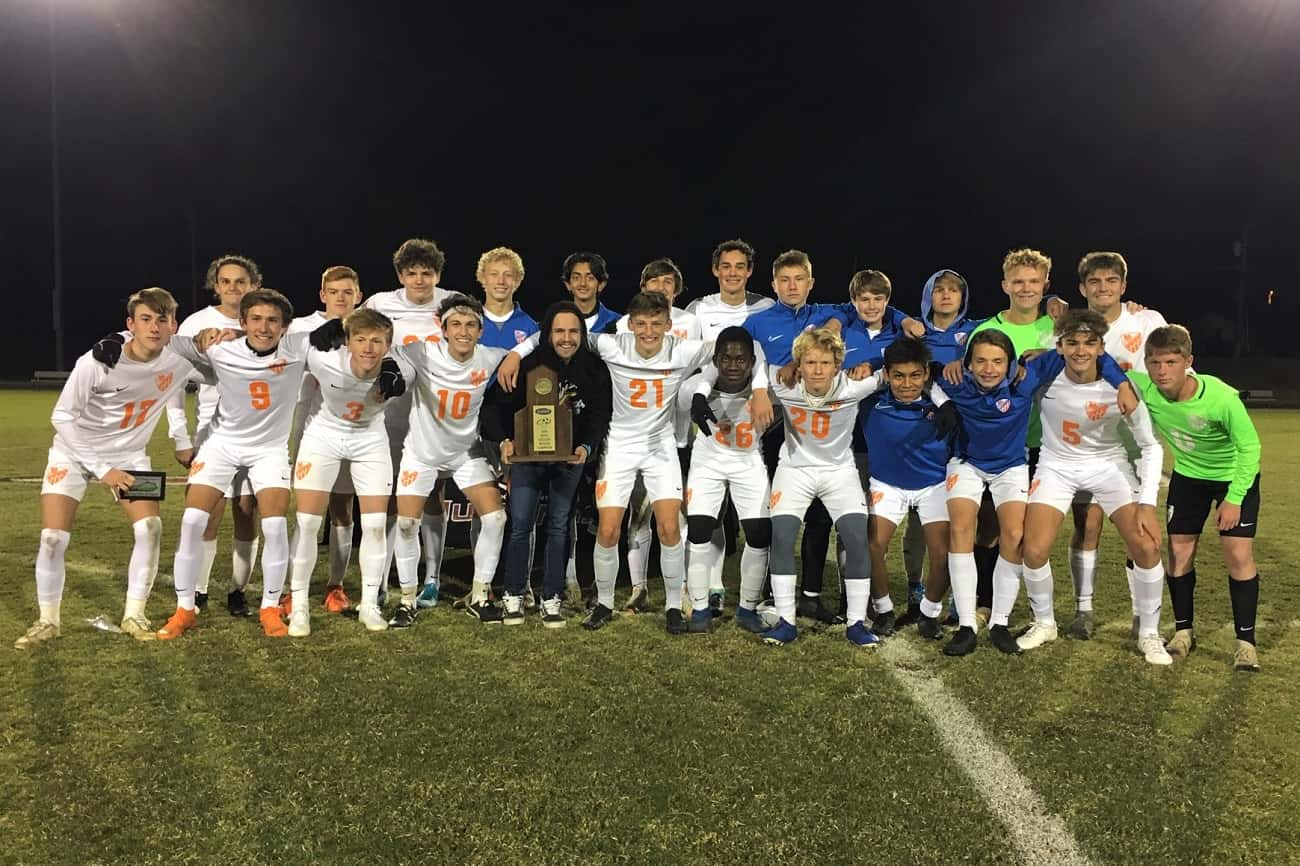 The Marshals are the 2019 Region Champions, winning the title on Wednesday evening 2-0 over McCracken County. This is the 15th Region title in program history and the first for Head Coach Donnie Heath.  The win was the 20th for the Marshals this season, making it the first 20-win season since the 2002 team under Head Coach Don Walker who led that team to the State Championship game and they finished runner-up to St. Xavier.
"It feels great for the program and for the players", Heath said. "The amount of sacrifice and time that they put into our program is unbelievable. I couldn't be more proud to be their coach."
Bryson Penn put the Marshals on the board 25 minutes into the first half on a header off a corner kick from Collin Riley and it was a 1-0 game at halftime. McCracken County's Ian Leatherman nearly tied the game with four minutes remaining, bouncing one off the left post. A minute later, Chase Riley finds the net off an assist from Penn to put the Marshals up 2-0 as the final three minutes ticked off the clock to give Marshall County their first title since 2014.
"It was a good Calloway team that got us in the finals last year and as soon as we got finished, the next day or two we were back at it and this was the goal, all year-long", Heath said. "McCracken County is a good team, it was a tough game."
For the game, the Marshals out-shot the Mustangs 12-10, six on goal for both teams. Ben Burkeen had six saves in the Marshals 14th shutout of the year. McCracken County goalkeeper, Gavin O'Donley had four saves. The Mustangs drew four yellow cards in the game.
Bryson Penn was selected Player of the Year and Donnie Heath Coach of the Year for the First Region for the second straight year. First Team selections for Marshall County – Bryson Penn and Drake May. Second Team – Collin Riley, Eric Hicks, Ben Burkeen and William Lynch. Honorable Mention – Sean Janiec.
"I couldn't be more proud of our players…our coaching staff did an excellent job", Heath said "I know it's coach of the year, but it's staff of the year. I couldn't do what I do…the players couldn't do what they do…without the staff. All the credit goes to the players and I'm very happy for them to get this after all the work they've put in over the last year and half, two years."
Heath, the players and staff Bryan Blevins, Tyler McKenty and Levi Darnall will now await the outcome of the Fourth Region title game between South Warren and Warren Central Thursday night to see who they will play next Tuesday in Bowling Green in the Semi-State round.