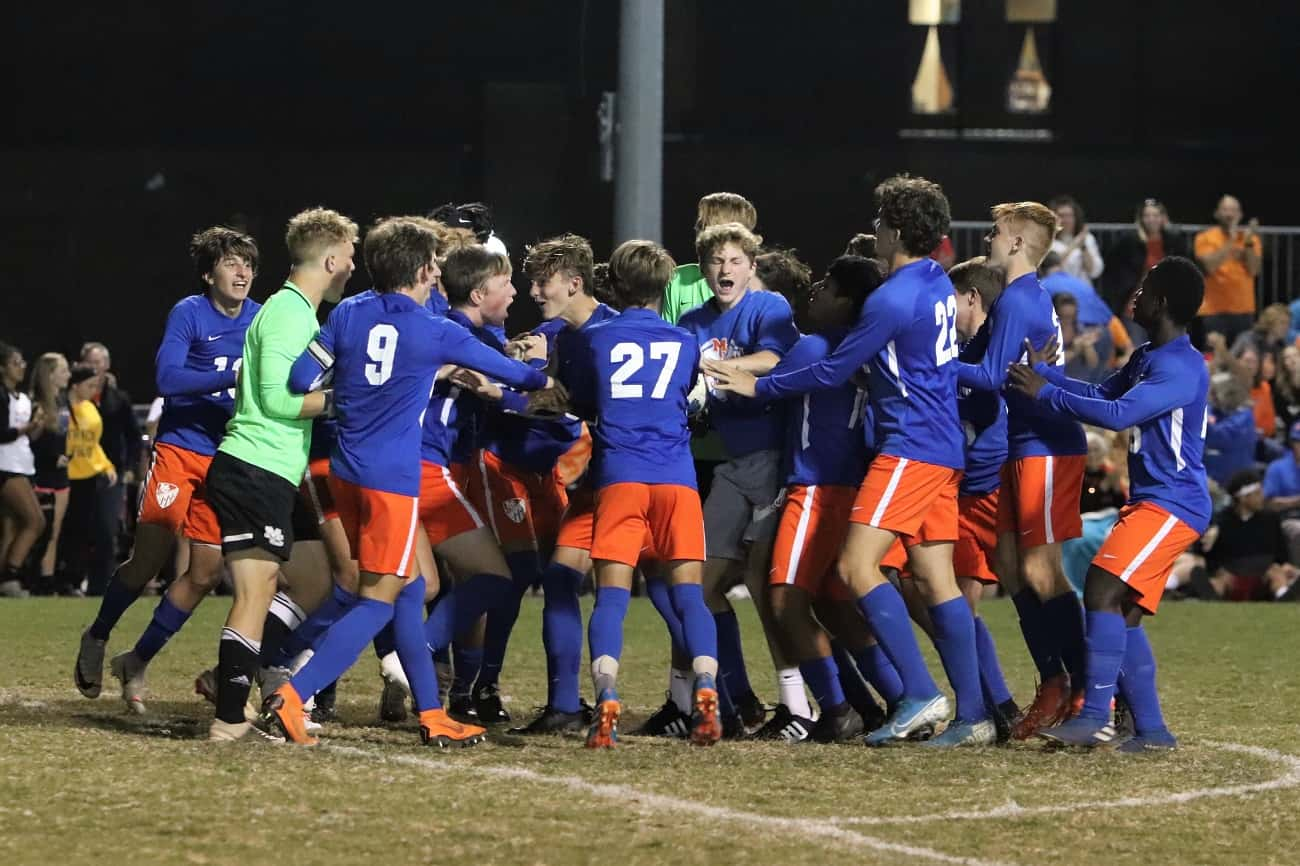 Marshall County and Murray played for the Second District title Thursday in Mayfield and for the second time this season, a hard-fought battle between the two teams came down to penalty kicks.
Scoreless at the end of regulation and through two five-minute overtime periods, the district title was won by the Marshals in the fifth round of penalty kicks on a goal by Jarrett Wiles.
Bryson Penn took the first PK for the Marshals that was saved by Murray keeper Bradley Dawson. Ben Burkeen saved the shot of Carter Allen and it was 0-0 after round one. Caleb Nicholls' shot was good, equaled by Murray's Michael Michael and it was 1-1 after the second round. The shots of Chase Riley and Charles Pemwell were both saved in the third round and it remained 1-1. Sean Janiec found the net in the fourth round and Burkeen's huge save on the shot of Trevor Harrison gave the Marshals a 2-1 advantage and a chance to win with a goal in the fifth round, which Wiles proceeded to knock in for the win.
In post-game comments, Head Coach Donnie Heath talked about the depth of their program, not knowing who's going to make a big play on any given night, but knowing full well, someone will.
"Everybody has to be ready and stay ready and that is really what we did tonight and I couldn't be more proud", Heath said. "A total team effort that speaks to the resiliency, the mentality of the program."
The Marshals earned back-to-back district tournament titles and the win was the 22nd District Championship for the program.
Marshall County will play the loser of Friday's First District Championship between Tilghman and McCracken County in the Regional Tournament. The game will be on Monday at 7:00 at the site of the First District winner.
All District Team: Deni Salas (Calloway County), Isaias Bartolo (Mayfield), JR Carbajal (Graves County), Gabe Taylor (Murray), Bryson Penn (Marshall County), Jarrett Darnell (Calloway County), Alberto Arellano (Mayfield), Kaden Slack (Graves County), Garret Putz (Murray), Sean Janiec (Marshall County), Stephen Kelly (Graves County), Charles Pemwell (Murray), Bradley Dawson (Murray), Eric Hicks (Marshall County) and Drake May (Marshall County).