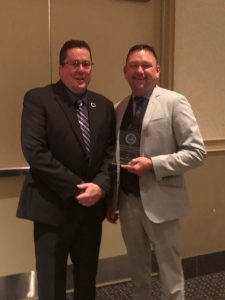 Pictured from L to R: Marty Barnett, Murray-Calloway County EMS Director, with Troy Walker, President, Kentucky Ambulance Provider Association
MURRAY, KY –  The Murray-Calloway County Emergency Medical Services (Ambulance Service) was recently awarded 2019 Service Provider of Year for Region 1. The award was presented at the 30th Annual Kentucky Ambulance Provider Association EMS Conference.
The Kentucky Ambulance Provider Association is comprised of six regions across the commonwealth of Kentucky. Region 1 consist of the following counties, Fulton, Hickman, Carlisle, Ballard, Graves, McCracken, Marshall, Calloway, Livingston, Lyon, Trigg, Crittenden, Caldwell, Christian, Todd, Hopkins, Webster, Union and Muhlenberg.
In the last year, Murray-Calloway County EMS has received the American Heart Association – Mission Lifeline Silver Plus Award for Cardiac Care and the 2019 Kentucky EMS for Children Award for Pediatric Excellence.
In addition to these awards, Murray-Calloway County EMS cosponsored an Advanced EMT class and remains as a clinic site for Lenoir Community College Paramedic Program in Kinston, NC and the Madisonville Community College Paramedic Program.
Murray-Calloway County EMS is one of few services in the state with continued participation in the Community Paramedic Pilot Program and continues to be involved in teaching ACLS and PALS for Murray-Calloway County Hospital.
"We are honored to receive this prestigious award for our region this year, as well as in 2017 and 2013. Our service strives for excellence in all that we do," said Marty Barnett, Murray-Calloway County EMS Director.