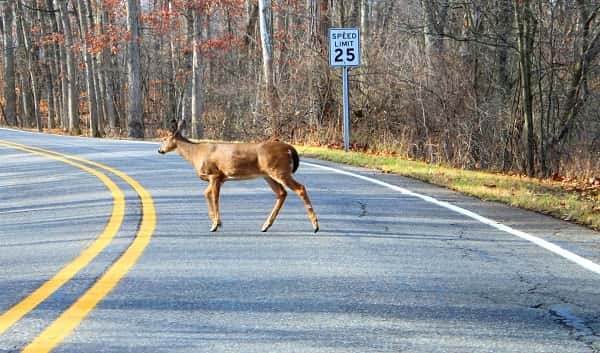 Drivers alerted to start of deer-car collision season. Half of all deer-vehicle collisions occur from October through December.
PADUCAH, Ky. (Oct. 8, 2019) – The Kentucky Transportation Cabinet has issued a motorist alert for the start of fall deer-vehicle collision season. In a recent ranking, Kentucky was 15th in the nation for collisions involving deer.
The movement of deer along Kentucky highways takes a noticeable upturn starting in early-October. Shorter days and cooler evenings serve to kick off the fall deer mating season. Increased field activity by farmers as they harvest crops may also contribute to putting deer on the move and make them more likely to come into the path of passing vehicles.
"Driving during twilight hours can be especially hazardous this time of year," said KYTC District 1 Chief Engineer Kyle Poat said. "Deer are more likely to be on the move around sunrise and sunset, the time of day when they can easily be missed moving among the shadows."
In 2018, 3,086 deer-vehicle collisions were reported across the Commonwealth, a slight drop from the more than 3,200 reported to police agencies in 2017.
"October, November, and December account for about half of the deer-car collisions," said Poat. "We're urging drivers to use extra caution on the roadway through the end of the year."
In Highway Districts 1 and 2, eight counties have consistently ranked in the top 20 for reported deer-vehicle collisions. That number expands to 12 if the top 40 counties are considered.
In KYTC District 1, Graves, Marshall, Calloway, and Lyon counties are in the top 40 for deer-vehicle collisions in 2018, and McCracken County hovers just off that list at 46.
The position of many of those counties is attributed to a substantial deer population combined with a high number of four-lane highway miles.
Crashes involving deer are more than an annoyance. In addition to causing damage to vehicles, deer contribute to more than 100 injury crashes and are blamed for about three highway fatalities in Kentucky each year. Annually, deer are blamed for about 200 traffic fatalities nationwide.
The chances of hitting a deer while driving decreased slightly last year. However, the cost of claims for deer collisions increased by $162. The average car insurance claim involving deer is $4,341, according to figures supplied by State Farm Insurance.
Odds of being involved in a deer collision in Kentucky are 1 out of 107, but that likelihood doubles during deer season, from October to December. Kentucky Transportation officials offer several driving tips to help improve safety:
· Slow down immediately when you spot a deer crossing the roadway ahead, as deer tend to travel in groups.
· Don't swerve to avoid a deer. Swerving can result in a more serious crash with an oncoming vehicle or roadside object.
· In the event of a crash, keep both hands on the wheel and apply brakes steadily until stopped.
· Motorists are asked to report all deer-vehicle collisions to police so locations and crash numbers can be recorded and monitored.
· Always wear a safety belt.
· Keep headlights on bright unless other vehicles are approaching.
· Drive defensively, constantly scanning the roadside, especially at dawn and dusk when deer prefer to be active.
Motorists are asked to report all deer-vehicle collisions to police so locations and crash numbers can be recorded and monitored. Traffic engineers use the crash data to aid in the placement of deer warning signs and other safety measures.