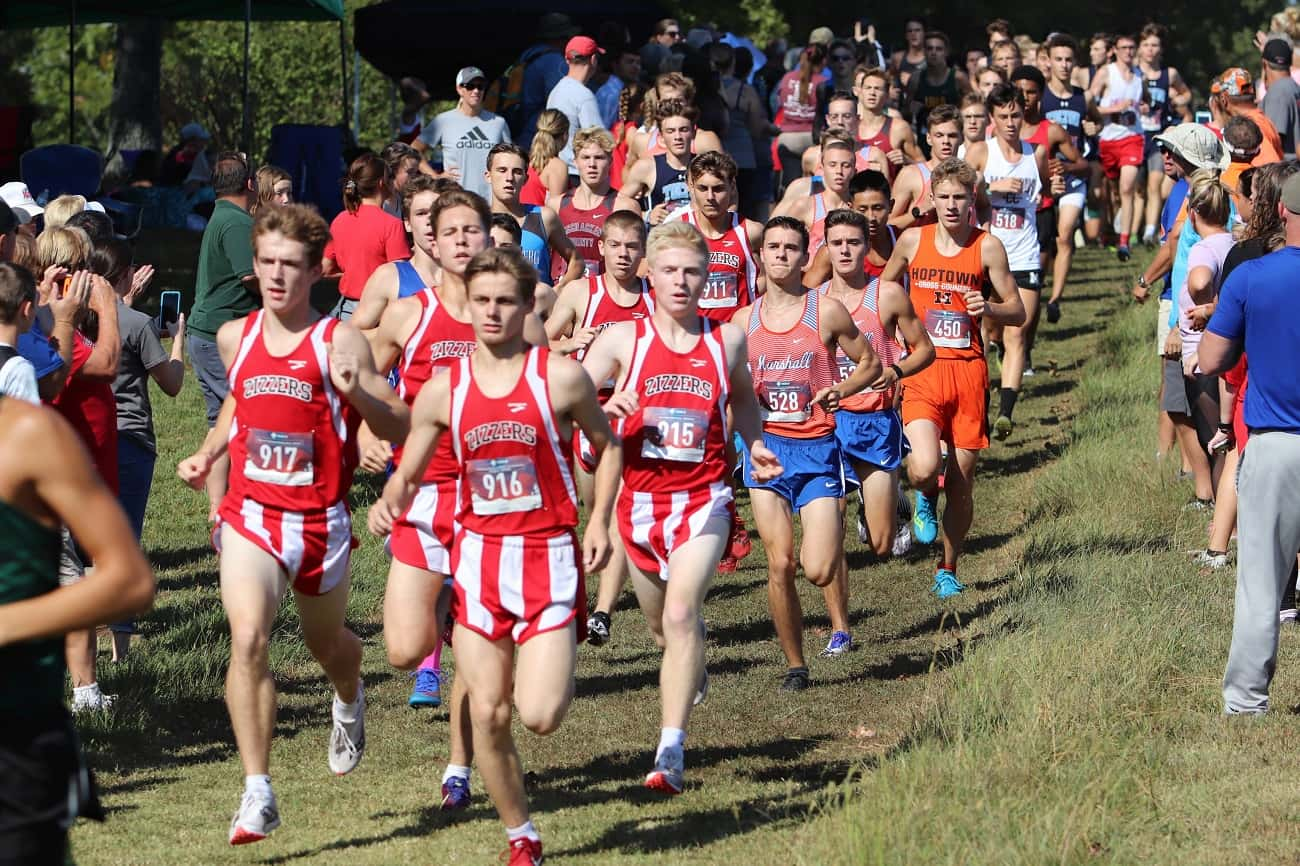 The heat was on at Saturday's 40th Marshall County Invitational cross country meet as racers braved the hot temperatures and a tough course. The girls and boys teams from West Plains, Mo. swept the varsity 5k races. The Zizzers are a storied program in Missouri under Head Coach Joe Bill Dixon. Dixon has been head coach for 41 years and has taken the boy's team to the state meet all 41, winning the state title 14 times. The girl's team has been to state 34 consecutive years and have won 12 state titles.
West Plains placed six runners in the top 10 of the girl's race but the win went to Madisonville's Joy Alexander in 19:35.67. Alexander is ranked eighth in the state among high school girls and fourth among her freshman class. The always strong Daviess County team rounded out the remaining three spots of the top 10 to cross the finish.
Kaycee Kemp had the best finish for the Lady Marshals, placing 27th in 22:37.52. Finishing in the top 50 among 168 at the start was Zoie Swoope in 49th with a time of 22:37.52. Emma Smith finished 54th in 24:28.27, Leah Vincek was 57th stopping the clock at 24:39.49 and Alexia Minter finished 81st in 26:06.10.
The Lady Marshals finished seventh in the field of 20 teams. Behind West Plains in first, Daviess County took second and Tolton Catholic, Mo. was third.
Jonah Mitchell from Muhlenberg County, the number one ranked cross country runner in the state, took first in the boy's race among a field of 211 finishers. Mitchell finished with a time of 16:25.15. Right behind in second from West Plains was Riley Simpson, finishing in 16:39.40. Three from West Plains finished in the top 10 to lead the team to the win, Daviess County took second and Marshall County third, a good result despite losing two top runners during the race in Christian Cosner and Ethan McCarty. McCarty is currently ranked first among Class of 2023 runners in the state.
Mason Cosner recorded the top finish for the Marshals, placing sixth in 17:07.09. Cosner is currently ranked 22nd in the state and eighth among seniors. More top finishes came from Cade Flatt with 15th place in 17:34.99, Jackson Miller was 20th in 17:50.26 and Knox Sandlin 23rd in 17:55.16.
In middle school 4k races, Daviess County Middle swept both the boys and girls events. Nolan Kurz took the boy's win in 14:35.75 and Bentlei Stallings the girl's win in 16:58.83. Marshall Middle's Kobey Yates took second in the boy's race in 15:23.23 and the top girl's finish came from Eden Sandlin in 11th in 19:23.23. Teams winning the middle school division, the McCracken Middle boys and Burns Middle girls.
Compete Marshall County results below photo gallery. (click to scroll)

| | |
| --- | --- |
| VARSITY GIRLS | VARSITY BOYS |
| 27 Kaycee Kemp 22:37.52 | 6 Mason Cosner 17:07.09 |
| 49 Zoie Swoope 24:19.85 | 15 Cade Flatt 17:34.99 |
| 54 Emma Smith 24:28.27 | 20 Jackson Miller 17:50.26 |
| 81 Alexia Minter 26:06.10 | 23 Knox Sandlin 17:55.16 |
| | 52 Samuel Lanham 19:05.38 |
| | 92 Ilya O'Bryan 20:14.76 |
| | 156 Andrew Lanham 22:06.08 |
| | 162 Gage Lynch 22:28.67 |
| | 173 Thomas McLean 22:42.66 |
| | 176 Deven Bradley 22:50.62 |
| | 196 Jesse Jones 24:18.32 |
| | 211 Preston Lamb 25:28.15 |
| | |
| MIDDLE GIRLS | MIDDLE BOYS |
| 11 Eden Sandlin 19:23.23 | 2 Kobey Yates 15:23.23 |
| 21 Elizabeth Barrett 20:50.94 | 45 Walker Jones 18:25.35 |
| 31 Addy McKinney 22:10.99 | 46 Daniel Walker 18:26.95 |
| 92 Tanleigh Lumus 36:55.94 | 47 Christian Jones 18:28.82 |
| | 60 Zander Latino 19:05.60 |
| | 63 Brayden Lampert 19:13.43 |
| | 64 Dallas Sutherland 19:18.97 |
| | 80 Isaac Darnell 20:40.86 |
| | 92 Keifer Siress 21:31.18 |
| | 95 Grayson Ragsdale 21:45.25 |
| | 104 Sam Martin 23:12.70 |