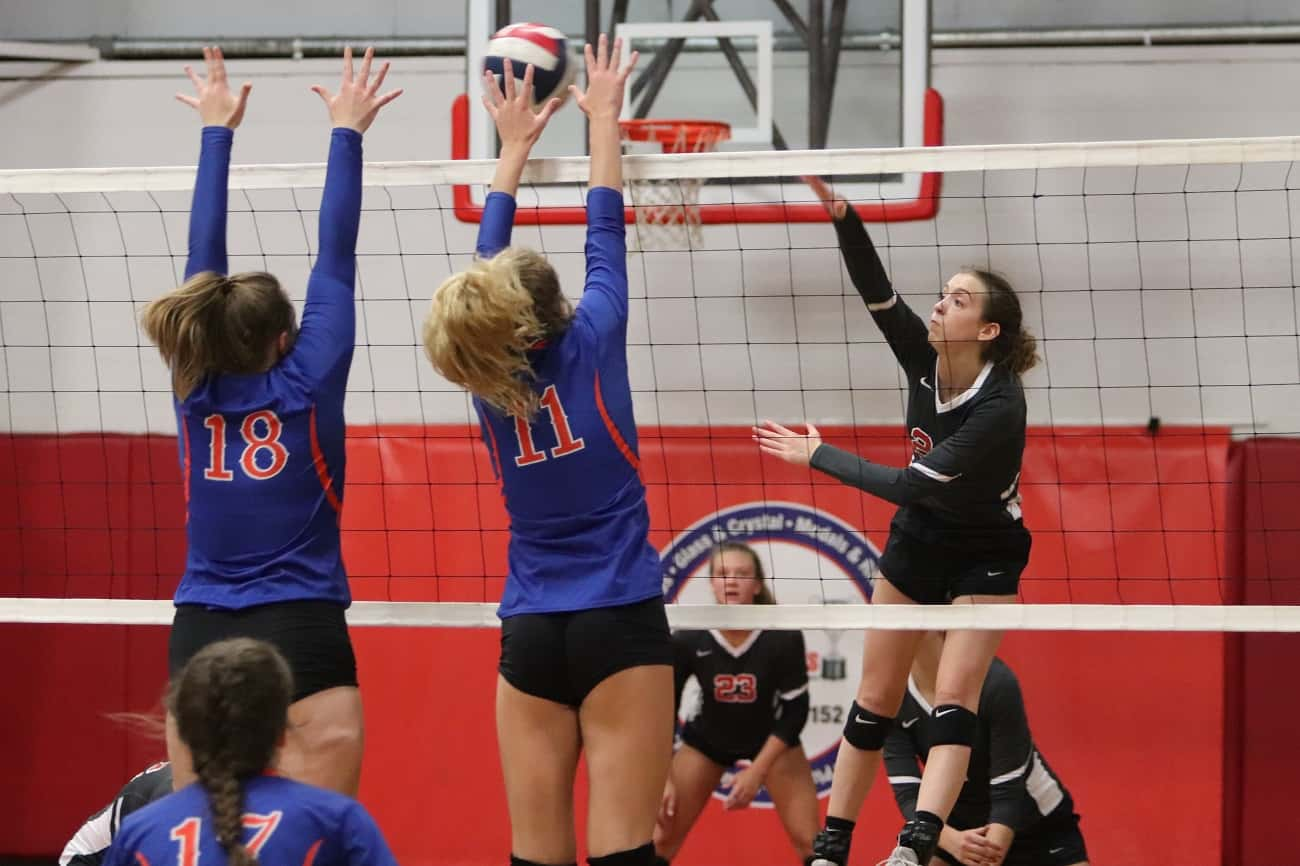 Marshall County won the first game against Christian Fellowship earlier this season 3-1, the Lady Eagles returning the favor on Tuesday at home when they took a 3-1 win. Both are the only district losses for either team and the only loss in region play for CFS who improved to 16-3.
"This was a tough loss for us", Marshall County Head Coach Laura Kinder said. "We weren't able to execute plays, and it killed us. CFS is a great team, and they just outplayed us tonight. We have a tough two weeks ahead of us, but we are going to work hard to make sure the pieces fall into place."
CFS won the first set 25-13 and trailed the second set before pulling back to one point at 19-18, the Lady Marshals holding on to win it 25-21, wrapping it up on a block by Halle Langhi for the set point.
CFS jumped out to a 5-1 lead in the third set and behind kills from Abigail Cima and Emma Fletcher, continued to maintain a five-point lead at 11-6. More of Cima and a kill from Lexi Hovekamp put CFS up 22-13 and they finished out the third set 25-16 on a kill by Maggie Wagner.
The Lady Eagles continued the momentum and led 3-0 in set four, the Lady Marshals getting on the board and cutting it to 3-2 on an ace serve by Clara Bradley and tying it up on a kill by Langhi. CFS stretched the lead back out to 7-3 on an ace from Hovekamp. Five more kills from Cima, one from Fletcher and one by Wagner extended their lead to 19-11. Hits from Langhi and Jessica Hicks kept the Lady Marshals in it, followed by a string of serves by Langhi to pull to within five points at 22-17 but CFS held on to win 25-19, getting the final game point on a kill by Fletcher.
CFS 3, Marshall 1 (25-13, 21-25, 25-16, 25-19)
CFS
Kills: Cima 17, Fletcher 13, Wagner 6, Hovekamp 5
Aces: Hovekamp 3, Cima 3, Etheridge 2, Fletcher 1, Wagner 1
Assists: Alexander 33, Etheridge 2, Hovekamp 1
Blocks: Wagner 2, Hovekamp 1, Cima 1
MCHS
Kills: Hicks 10, Langhi 7, McClain 2, McCracken 2, Bremmerkamp 2
Aces: Hicks 2, Bradley 1
Digs: Hicks 12, Pritchett 7
Assists: Bradley 14, Gresham 6
Blocks: Langhi 4, Hicks 2, McClain 2, McCracken 2, Bradley 2