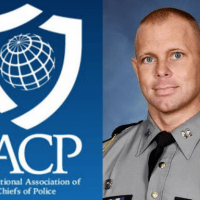 International Association of Chiefs of Police (IACP) announced their 40 under 40 Awardees earlier this month.  According to IACP's website, these awardees represent top rising leaders from around the globe, exemplifying leadership, dedication, and service to their communities and law enforcement profession.
One of the 40 awardees from around the world is a Marshall County resident, Kentucky State Police Captain Kyle Nall.  Captain Nall is currently the Academy Commander for the Kentucky State Police Academy.  This is a very prestigious award that Lieutenant Brian Duvall was very excited to share with us that Captain Nall had been awarded, and we are glad he did!  Lieutenant Duvall has worked side by side with Captain Nall and said that he is a very humble and deserving candidate of this award and he could not be more proud of him.  Congratulations Captain Nall!
Below is the official press release from IACP about Captain Nall's achievements that led to him receiving the 40 Under 40 Award.  You can also view the other recipients at https://www.theiacp.org/2019-iacp-40-under-40-awardees
Kyle Nall
Captain/Academy Commander
Kentucky State Police Academy
Age: 37
Captain Kyle Nall is a leader who continually asks how he can better serve his subordinates within the Kentucky State Police. Within two years of becoming the academy commander, he instituted innovations that impacted new recruitment strategies, improved upon the training curriculum, and influenced the lives of those he encounters. Under his leadership, the training academy is now a CrossFit affiliate, and he created the Hero Workout of the Day initiative to honor the department's 31 fallen troopers. The 31 workouts correlate with the service of the fallen officers.
Captain Nall was also instrumental in leading the agency's associate degree program. With this program, a hired trooper who has not obtained an associate degree can achieve one during the 24 weeks of recruit training. The degree is achieved through a SACS-accredited institution and is transferable to any state college or university. Leading by example, Captain Nall went with the cadets in the program to every college class to ensure the program ran smoothly.
He was also the recipient of a congressional commendation and a commissioner's commendation in 2009. Also, in 2009, Captain Nall was awarded as Trooper of the Year for Post 1. Although he cherishes these awards, the pivotal moments in his career are when someone thanks him for making an impact on their lives and being a leader.