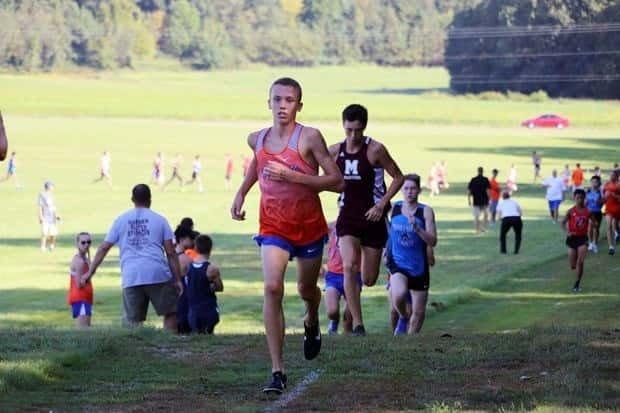 Marshall County boy's cross country won the Muhlenberg County Mustang Stampede Saturday. Mason Cosner and Ethan McCarty turned in the top two performances for the Marshals crossing the line in sixth and seventh. Cade Flatt was the third Marshal to place in the top 10, coming in ninth. Knox Sandlin and Samuel Lanham rounded out the five Marshals in the top 20 with 15th and 17th.
Webster County took second and Daviess County third among the field of 10 teams. The individual win went to Silas Winders of Henry County, TN with a time of 14:52.89. His sister, Dinah Winders, completed the sibling sweep at Muhlenberg County taking first in the girl's race in 18:06.94.
Four Lady Marshals ran on Saturday, led by Kaycee Kemp who finished 12th. Leah Vincek was 18th, Taylor Bailey finished 21st and Alexia Minter right behind Baily in 22nd. The team from Daviess County took the win.
Thirteen from Marshall County competed in the 8th & under and 6th & under races. Top results came  in the 6th & under races with Kobey Yates taking first in the boy's 3K race and Eden Sandlin third in the girl's 3K race. Elizabeth Barrett turned in a 32nd place finish in the girl's 8th & under  4K race and Walker Jones placed 57th in the boy's 8th & under division.
Marshall County results:
| | |
| --- | --- |
| BOYS | GIRLS |
| 6. Mason Cosner, 16:22.60 | 12. Kaycee Kemp, 22:32.67 |
| 7. Ethan McCarty, 16:27.32 | 18. Leah Vincek, 23:17.85 |
| 9. Cade Flatt, 16:56.60 | 21. Taylor Bailey, 23:36.93 |
| 15. Knox Sandlin, 17:30.01 | 22. Alexia Minter, 23:41.74 |
| 17. Samuel Lanham, 17:40.99 | |
| 53. Ilya O'Bryan, 19:48.29 | |
| 60. Deven Bradley, 20:10.34 | |
| 77. Andrew Lanham, 21:20.99 | |
| 81. Gage Lynch, 21:38.57 | |
| 82. Jesse Jones, 21:42.31 | |
| 83. Thomas McLean, 21:58.53 | |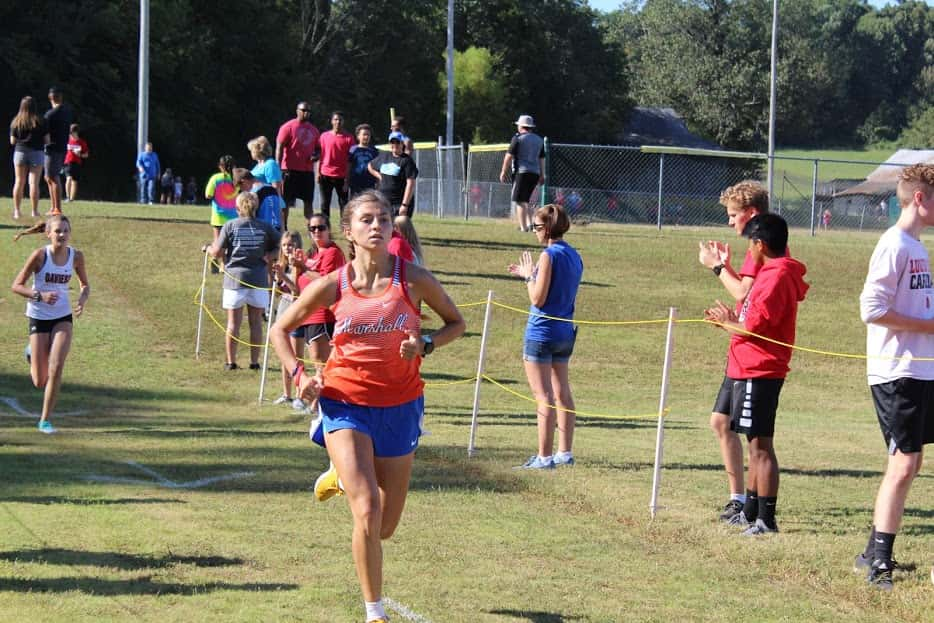 Kaycee Kemp led the Lady Marshals in the Mustang Stampede with a 12th place finish. Photo: Brad Hall

| | |
| --- | --- |
| 6th & under girls | 6th & under boys |
| 3. Eden Sandlin, 13:46.75 | 1. Kobey Yates, 11:13.41 |
| 67. Tanleigh Lumus, 22:05.88 | 12. Brayden Lampert, 13:31.53 |
| | 19. Daniel Walker, 13:38.01 |
| 8th & under girls | 25. Isaac Darnell, 14:12.36 |
| 32. Elizabeth Barrett, 19:24.71 | 34. Zander Latino, 14:39.59 |
| | 54. Sam Martin, 16:25.81 |
| | 56. Grayson Ragsdale, 16:33.61 |
| | |
| | 8th & under boys |
| | 57. Walker Jones, 17:55.31 |
| | 70. Keifer Siress, 18:56.55 |
| | 77. John Foley, 19:40.81 |