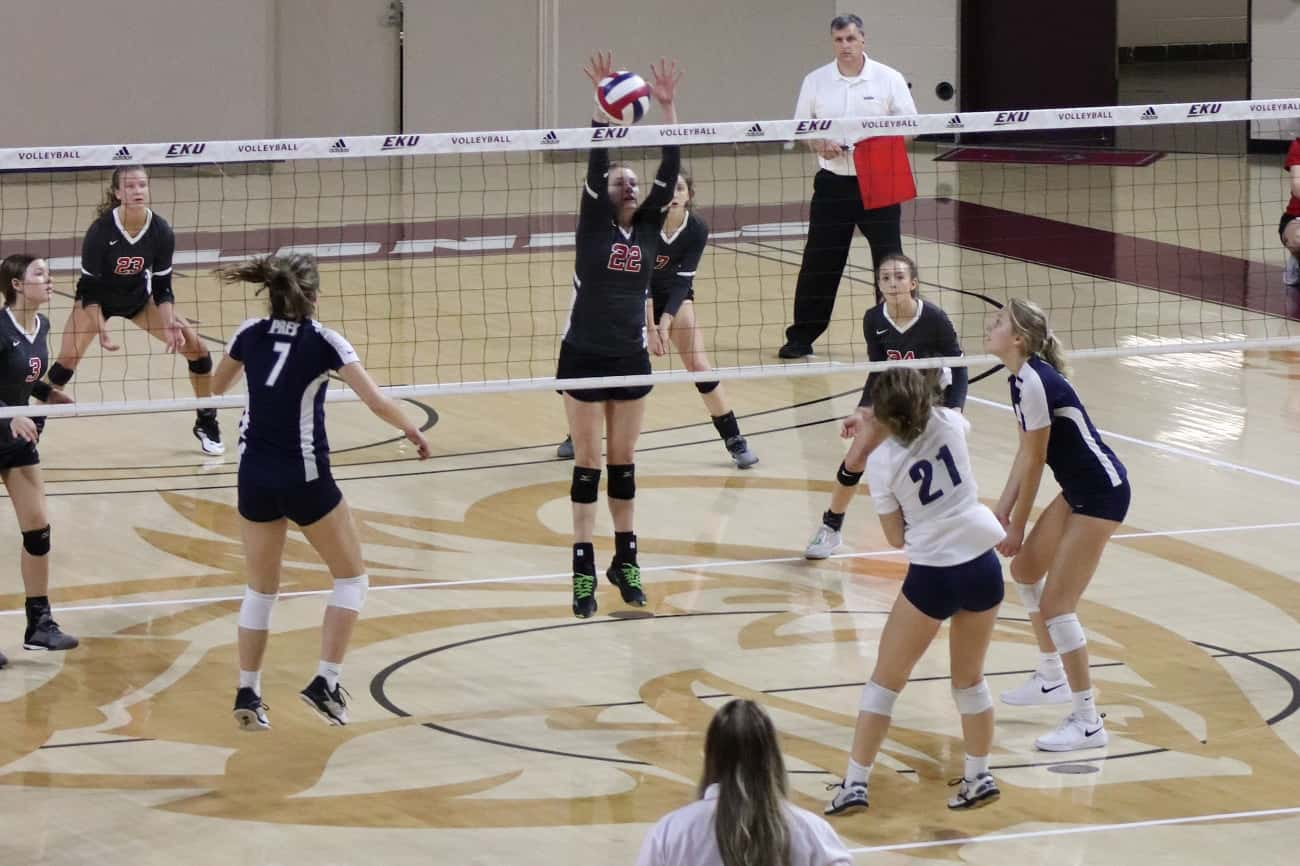 Christian Fellowship's Lady Eagles played in the All 'A' State Tournament at Eastern Kentucky University in Richmond this past weekend, advancing to the semi-final round where they lost to Presentation. In the 10 years of the All 'A' State Tournament, it was the deepest run of any Region 1 team. Region 2's Caldwell County advanced to the semi-finals three years – 2009, 2010 and 2016.
In Pool play, the Lady Eagles defeated Caldwell County 2-0, Bishop Brossart 2-1 and Pikeville 2-0 to advance to the Championship Bracket. They defeated Clinton County 2-1 before their 2-1 semi-final loss to Presentation.
Covington Holy Cross beat Presentation 2-0 (25-18, 25-23) to win the All 'A' State title. Emma Alexander and Abigail Cima earned All Tournament Team honors.
All 'A' Tournament stats:
CFS 2, Caldwell County 0 (25-15, 26-24)
Kills: Cima 8, Fletcher 4, Wagner 4
Aces: Wagner 3, Alexander 2, Hovekamp 2, Fletcher 1
Assists: Alexander 15, Wagner 1
Blocks: Hovekamp 2
CFS 2, Bishop Brossart 1 (20-25, 25-19, 25-20)
Kills: Fletcher 10, Cima 10, Hovekamp 4, Wagner 3, Etheridge 1
Aces: Alexander 3, Fletcher 2, Cima 2, Hovekamp 1, Burnett 1, Etheridge 1
Assists: Alexander 21, Etheridge 4, Fletcher 1, Wagner 1
Blocks: Hovekamp 4, Cima 2, Fletcher 1, Wagner 1
CFS 2, Pikeville 0 (25-19, 25-23)
Kills: Cima 7, Wagner 6, Fletcher 4, Hovekamp 3
Aces: Etheridge 1, Wagner 1
Assists: Alexander 17, Burnett 2
Blocks: Cima 2, Alexander 1, Hovekamp 1, Wagner 1
CFS 2, Clinton County 1 (25-14, 23-25, 25-21)
Kills: Cima 18, Fletcher 6, Wagner 6, Hovekamp 5, Alexander 1
Aces: Fletcher 2, Cima 2
Assists: Alexander 23, Cima 4, Etheridge 1, Wagner 1
Blocks: Hovekamp 4, Cima 4, Etheridge 1, Wagner 1
Presentation 2, CFS 1 (25-19, 18-25, 25-16)
Kills: Cima 14, Fletcher 6, Hovekamp 2, Wagner 1
Aces: Fletcher 3, Alexander 1, Burnett 1
Assists: Alexander 18, Burnett 1
Blocks: Cima 5, Wagner 2, Etheridge 1, Burnett 1