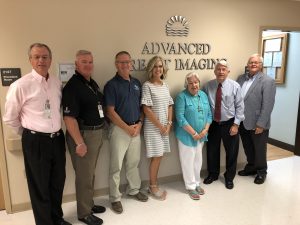 Pictured left to right: Keith Travis, Chief Philanthropy Officer, Jerry Penner, CEO, Steve and Vicki Simmons, Donna Herndon, Enduring Hope Chair, Ken Winters, Board Member, and John Dale, Board Member
MURRAY, KY – Steve and Vicki Simmons, owners of Multi-Skill Training Services presented a donation of $12,500 to the Foundation at Murray-Calloway County Hospital in support of the Enduring Hope Campaign for the building of a new Regional Cancer Center. The $12,500 donated by the Simmons family is recognized on plaques displayed in two rooms located in the new Mammography area located in the South Tower.
The Simmons family has a personal connection to the importance of mammograms and a cure for cancer. Vicki herself is a breast cancer survivor and was touched to sponsor a facility that will impact other women and men who suffer from breast cancer, as well as other cancers.
Beginning in March of 2019, Murray-Calloway County Hospital began offering Low Dose Genius™ 3D Mammography™ exams from Hologic. Large clinical studies have demonstrated the positive benefits of Low Dose 3D Mammography ™ exams including:
Earlier detection of small breast cancers that may be hidden in a conventional mammogram
Greater accuracy in pinpointing size, shape and location of abnormalities
Fewer unnecessary biopsies or additional tests
Greater likelihood of detecting multiple breast tumors
Clearer images of dense breast tissue
Maintained 3D Mammography™ exam performance, at a 2D-like doseFor the Simmons family this was a great place to show their support, share their personal experience and emphasize the importance of early detection and regular screenings.
The Enduring Hope campaign has been launched to raise money for a new $12 million Regional Cancer Center which will bring the oncologists, social workers, pharmacy, and infusion area under one roof. The centerpiece of the new Regional Cancer Center's equipment will be a state-of-the-art linear accelerator that can deliver stereotactic radiation therapy.
For more information on how you can support the building of a new Regional Cancer Center in Murray, please contact Keith Travis, Chief Philanthropy Officer at 270.227.0253.