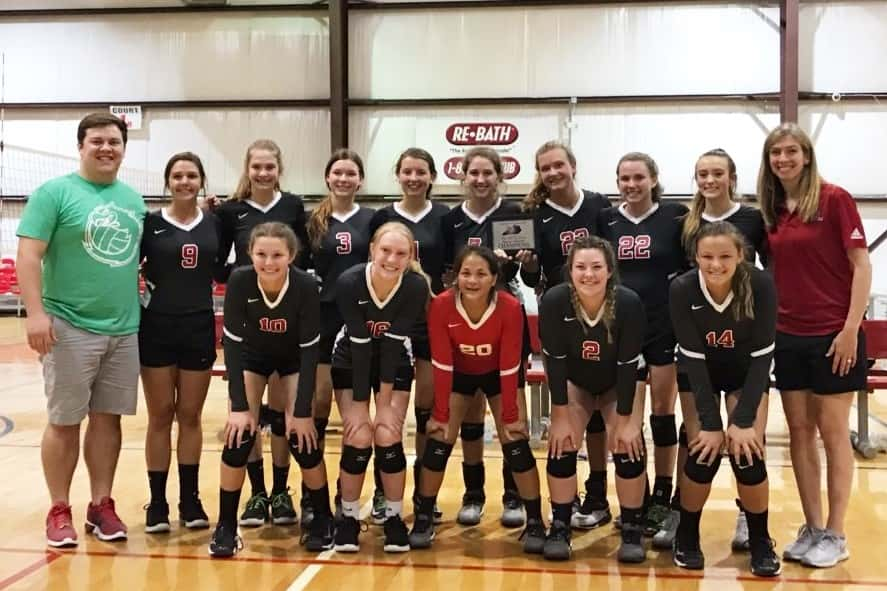 Six games…six wins for the Lady Eagles of CFS on Saturday to take the 1st Region All 'A' Classic title. The six 2-0 wins came over Hickman County, St. Mary, Fulton County, Ballard Memorial, Mayfield and the championship game over Community Christian.
Over the six games Saturday, Abigail Cima dominated with 45 kills followed by Emma Fletcher with 36 and Maggie Wagner with 22. Fletcher and Lexi Hovekamp led on the day in aces with eight each, Alexander had seven and Zailey McClain six. Alexander recorded 88 assists.
CFS followed Saturday's All 'A' Classic title with a 3-0 win on Tuesday over Madisonville-North Hopkins and improve to 10-2.
All 'A' Classic stats:
Game 1 vs Hickman County (27-25, 25-13)
Kills: Cima 10, Fletcher 8, Wagner 6, Hovekamp 1
Aces: Wagner 2, Cima 1, Alexander 1, Fletcher 1
Assists: Alexander 16, Cima 1, Etheridge 1, Burnett1
Blocks: Hovekamp 3, Cima 1, Etheridge 1
Game 2 vs St. Mary (25-6, 25-15)
Kills: Hovekamp 4, Cima 3, G. Howard 3, Wagner 1, Etheridge 1, Burnett 1, Jackson 1, R. Howard 1
Aces: McClain 5, Burnett 2, Slayden 2
Assists: R. Howard 5, Alexander 4, Burnett 1
Blocks: Cima 1
Game 3 vs Fulton County (25-19, 25-4)
Kills: Cima 5, Wagner 4, Burnett 2, G. Howard 2, Fletcher 1, Hovekamp 1
Aces: Hovekamp 7, Cima 2, Jackson 2, Alexander 1, Burnett 1, McClain 1, G. Howard 1
Assists: Alexander 11, McClain 1, R. Howard 1
Blocks: Cima 2
Game 4 vs Ballard Memorial (25-14, 25-22)
Kills: Fletcher 10, Cima 4, Wagner 3
Aces: Cima 3, Fletcher 2, Alexander 1
Assists: Alexander 13, Etheridge 1, Wagner 1
Blocks: Wagner 3, Hovekamp 1, Cima 1
Game 5 vs Mayfield (25-16, 25-10)
Kills: Fletcher 11, Cima 11, Wagner 5, Hovekamp 3, Etheridge 2
Aces: Fletcher 2, Cima 2, Alexander 1, Hovekamp 1, Wagner 1
Assists: Alexander 25, Etheridge 2, Hovekamp 1, Wagner 1
Championship – Game 6 vs CCA (25-22, 27-25)
Kills: Cima 12, Fletcher 6, Wagner 3, Hovekamp 2, Etheridge 1, Burnett 1
Aces: Alexander 3, Fletcher 1, Cima 1, Wagner 1
Assists: Alexander 19, Wagner 1, Burnett 1
Blocks: Hovekamp 4, Wagner 2, Cima 1
CFS vs Madisonville-North Hopkins (25-14, 25-10, 25-20)
Kills: Cima 15, Fletcher 8, Wagner 5, Burnett 2, Etheridge 1
Aces: Fletcher 3, Hovekamp 3, Cima 2, Etheridge 2, Burnett 2, Alexander 1, Wagner 1
Assists: Alexander 21, Cima 1, Etheridge 1, Burnett 1
Blocks: Fletcher 1, Cima 1, Burnett 1, G. Howard 1