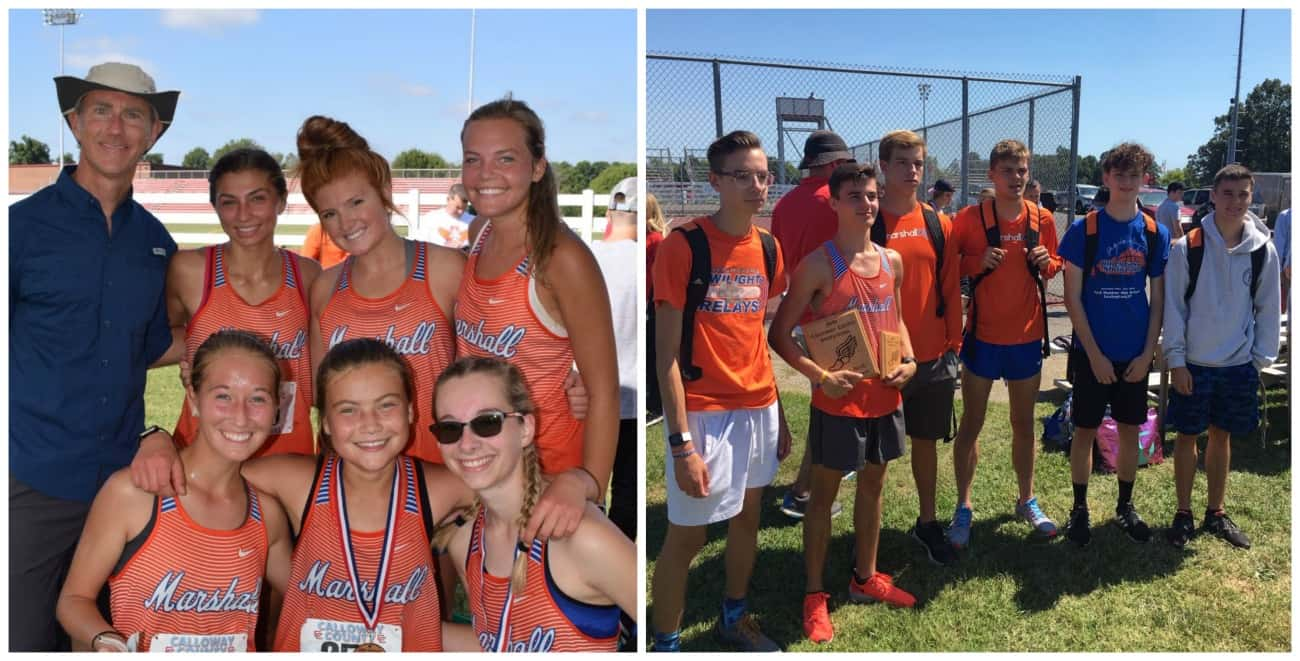 Marshall County girl's and boy's cross country teams took the team titles at the Calloway County Invitational on Saturday. The Marshals took the top three spots in their race with the win going to Mason Cosner (17:06.4), second to cross was Ethan McCarty (17:10.3) and third went to Christian Cosner (17:27.0).
The Marshals had six to finish in the top 10, including a sixth place finish by Cade Flatt (17:56.1), seventh went to Jackson Miller (18:05.0) and Knox Sandlin (18:06.2) finished eighth.
Eight more runners for Marshall County crossed the 5K finish line in a field of 133 – Samuel Lanham 27th (19:38.9), Ilya O'Bryan 50th (20:50.3), Deven Bradley 67th (21:48.6), Gage Lynch 88th (22:56.1), Thomas McLean 92nd (23:18.1), Andrew Lanham 93rd (23:25.4), Jesse Jones 108th (25:36.9) and Eli Jones 117th (26:53.7).
After the Marshals, taking the top three among 15 teams – Graves County was second and went to Calloway County.
Gabbi Lovett (22:26.1) led the Lady Marshals with a fourth place finish in the field of 92 at the start. Kaycee Kemp (23:39.2) placed ninth, 15th went to Leah Vincek (24:19.9), Zoie Swoope (24:45.1) finished 17th, Taylor Bailey (24:50.7) was 19th and Emma Smith (25:19.8) crossed in 23rd. Stewart County's Samantha Anderson (21:29.4) took the win.
The Lady Marshals topped a field of 11 teams, followed by McCracken County in second and Fulton County took third.
Saturday, the team will head to Bowling Green to compete in the Warren East Twilight meet.