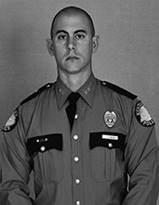 TROOPER JOSEPH 'CAMERON' PONDER
KSP will lay a wreath on the anniversary of Trooper Ponder's death.
Friday, September 13, 2019 at 4:00 p.m.
The Flag Pole near the site of his death on I 24W, near the 49 mm,  in Lyon County.
Anyone who wishes to show their respect is welcome to attend.
In Honor of Trooper Ponder's service to the Commonwealth of Kentucky.
Trooper Joseph 'Cameron' Ponder, age 31, was fatally shot on September 13, 2015 while conducting a routine traffic stop on Interstate 24 in Lyon County. Upon receiving his commission as a Trooper, he was assigned to Post 1, Mayfield, where his death came only nine months into his career. Trooper Ponder is buried at Kentucky Veteran's Cemetery in Ft. Knox, Ky. Interstate 24 in Lyon County, from the Caldwell County line to its intersection with Kentucky Route 293, is designated as the Trooper Joseph Cameron Ponder Memorial Highway.
September 13, 2015