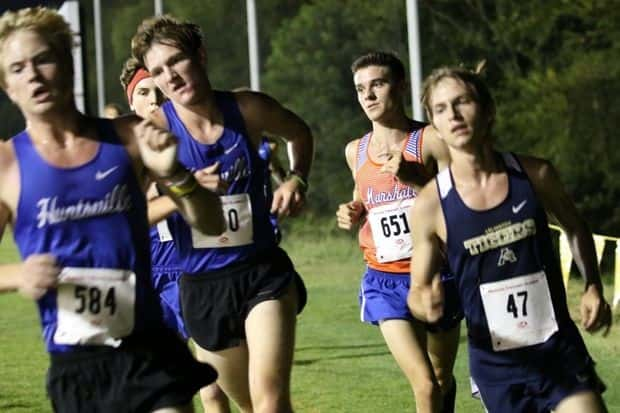 One-hundred teams, middle school through college, competed Saturday in the Memphis Twilight XC Classic. In the high school division, 42 teams lined up in the boy's 5000 meter race and the Marshall County boy's team made their presence known with a fifth place finish.
Christian Cosner led the Marshals with a 25th place finish, stopping the clock in 16:57.75. He was followed closely by Ethan McCarty in 27th in 17:02.32 and Mason Cosner in 33rd with a time of 17:09.19. Chester County High School (TN) runner Evan Allen was the first to cross the finish among a field of 318 runners with a time of 15:26.26 and the team from Huntsville High School (AL) took the team title.
Gabbi Lovett led the Lady Marshals with a 62nd place finish in 22:11.02. Emma Smith recorded the second best finish with a time of 23:44.26. Ciara O'Shea of Madison Central, won the girl's race that featured 263 runners, with a time of 18:07.17 and Daviess County took the team win. The Marshall County girl's finished 18th among a 35 team field.
In the JV division, Deven Bradley finished 161st to lead the Marshals, with a time of 21:49.02. Huntsville High School's Matthew Cobb won in 17:27.78 among the field of 348, leading the Huntsville team to a first place finish. The girl's JV division was won by Daviess County's Kyra Rowan with a time of 22:26.97 and the team from Houston High School took the win.
The team will compete on Saturday in the Calloway County Invitational.
Complete Marshall County results:
| | | |
| --- | --- | --- |
| VARSITY GIRLS | VARSITY BOYS | JV BOYS |
| 62 Gabbi Lovett 22:11.02 | 25 Christian Cosner 16:57.75 | 161 Deven Bradley 21:49.02 |
| 109 Emma Smith 23:44.26 | 27 Ethan McCarty 17:02.32 | 195 Gage Lynch 22:37.80 |
| 117 Kaycee Kemp 23:58.98 | 33 Mason Cosner 17:09.19 | 225 Thomas McLean 23:14.01 |
| 133 Leah Vincek 24:29.83 | 54 Cade Flatt 17:41.41 | 241 Andrew Lanham 23:32.10 |
| 151 Taylor Bailey 24:59.15 | 77 Knox Sandlin 18:06.55 | 264 Preston Lamb 24:09.20 |
| 160 Zoie Swoope 25:09.90 | 82 Jackson Miller 18:09.81 | 291 Ty Curtiss 25:30.27 |
| 189 Alexia Minter 25:59.98 | 122 Samuel Lanham 19:02.47 | |
| | 236 Ilya O'Bryan 21:14.20 | |