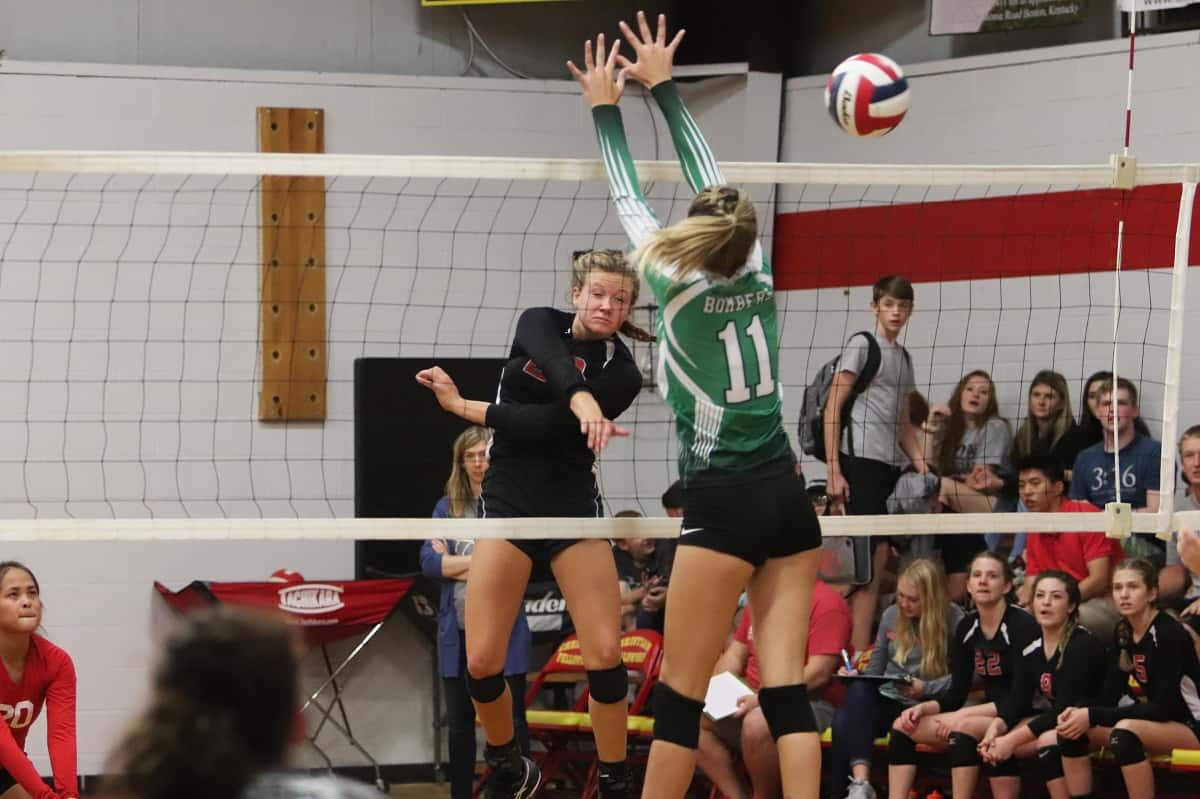 Christian Fellowship played their first home game of the 2019 season against Ballard Memorial on Thursday, getting a 3-1 win in four very close, competitive sets. The Lady Eagles took set one 25-23, set two went to Ballard 25-21 and the final two to CFS 25-19 and 25-22.
In the first set, CFS fell behind 8-4, then trailed by seven points at 13-6 before inching their way back to within three points at 13-10 behind four service winners from Emma Fletcher. The Lady Eagles tied the game up at 15 a piece on a service ace from Emma Alexander and took their first lead at 16-15. An ace followed by two service winners from Ballard's Isabella Myers put the Lady Bombers back up at 20-17. Tied again at 22 and again at 23, CFS finished out the game with the final two points to win the set 25-23.
The Lady Eagles fell behind to start the second set, 8-3, but pulled it back to within one point and took their first lead at 10-9. The Lady Bombers tied it at 12, then stretched their lead out to four points, in part with great back row play from Alyssa Dome. Ballard held the lead and went on to win the set 25-21 fueled by kills down the stretch from Myers.
CFS trailed again to start set three before tying the game at 12. Cima and Myers exchanged kills on each side of the net before the Lady Eagles grabbed their first lead at 16-15 off a serve by Alexander and held the lead for a 25-19 win to go up 2-1.
Kills from Cima and Maggie Wagner gave CFS a 2-1 lead, their first early lead of the four sets. A kill from Myers put Ballard back on top before it swung back in favor of the Lady Eagles. Leading 19-16, three straight hits into the net by CFS gave the Lady Bombers the chance to tie it up at 19 points. Two straight kills from Cima put CFS up 22-19 and they went on to close the 25-22 win out on a kill from Fletcher.
Cima led in kills with 20 followed by Fletcher with 13, five from Wagner and two by Lexi Hovekamp. Alexander and Brecksyn Etheridge had three aces each, Fletcher and Cima had two and Wagner with one. Alexander recorded 30 assists in the win and three assists went to Etheridge.
The Lady Eagles improve to 2-1, their only loss coming from Caldwell County 3-0 (25-21, 25-21, 27-25). They will play their first district game at home on Tuesday, Sept. 3, against Calloway County.