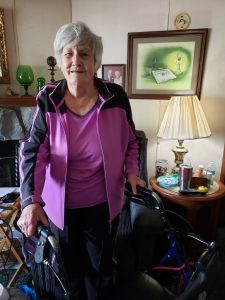 MURRAY, KY – The Acute Inpatient Rehabilitation Program at Murray-Calloway County Hospital is designed to help patients like Ms. Coleman regain their highest level of independence. The program is a comprehensive acute patient program where those who have suffered disabling illness or injury have the opportunity to rebuild their lives and achieve their highest level of functioning with a patient tailored rehab therapy plan.
At age 86, Alice Coleman had experienced a long life, including wear and tear on her joints. As an active quilter and thrift store saleswoman, she had no time to waste on bothersome left knee pain. Alice decided it was time to undergo a total knee replacement. On February 14, 2019, she underwent the routine surgery. After consulting with her orthopedic surgeon, who was located at a hospital outside of Murray. Although the surgery itself went well, Alice's recovery was complicated by post-operative paralysis, right-side numbness and severe right thigh pain.  Alice had expected to bounce back after surgery, but instead found herself unable to walk or transfer without the assistance of two people. The numbness and paralysis was resolved quickly, but she was left with nearly unbearable pain and doubt that she would ever walk normally again.
Unable to return home directly from the hospital, Alice was discharged to Murray-Calloway County Hospital Inpatient Rehabilitation Facility to recover from another hospital. When she arrived at the facility, Alice was unable to walk further than five feet with a walker and the assistance of two therapists. For the first time, she found herself completely dependent on others.
"I was really upset when I first made it to Murray," Alice recalls. "I didn't have family there and I lived in Benton. I was in a lot of pain. I could not move or walk, but the staff welcomed me and offered great motivation to encourage me to keep going. Everyone was just great! Very quickly, the staff became my family, and I was walking down the hall within a week! The rehab turned into my home away from home, and to be honest, I was little sad when it was time to leave."
Alice stayed 19 days in the rehabilitation unit at Murray-Calloway Hospital. She was discharged home with very little pain and walking independently with her walker. She was doing so well after she returned home that she was able to attend and work the local quilt show.
"It was a great day! I walked to my booth and sold my quilts all day long!" Alice reports, "That was something I thought I would not be able to do." 
For more information about the Inpatient Rehabilitation Unit at MCCH, contact the Marketing Department at 270-762-1381.