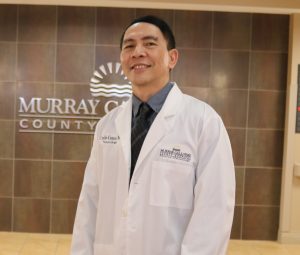 MURRAY, KY – Murray-Calloway County Hospital is pleased to welcome Crizeldo Cariaso, MD, Neurologist more commonly known as Dr. Cris.
Dr. Cariaso completed his medical degree at the University of the East Magsaysay Memorial Medical Center. He continued his education with Residency training in Family Medicine, Physical Medicine and Rehabilitation and Neurology. His Neurology residency was at the University of Pittsburgh Medical Center and State University of New York at Stony Brook University Hospital. He continued his education by completing a Fellowship in Clinical Neurophysiology at the New York University Langone Medical Comprehensive Epilepsy Center.
He previously worked as a Neurologist at the Southern New Hampshire Medical Center. Dr. Cris has over 10 years' experience in assessment and management of all neurological cases in the outpatient, inpatient, intensive care unit, and the emergency department.
He is trained in performing all NCS/EMG studies, reading EEG's and long term video EEG's. He is also competent in creating rehabilitation programs for all neurological cases and is an active member of the medical committee where he worked.
Dr. Cariaso will join Murray-Calloway County Hospital and the practice of Murray Neurology. If you have any questions, please contact the Marketing Department at 270.762.1381 or visit www.murrayhospital.org.