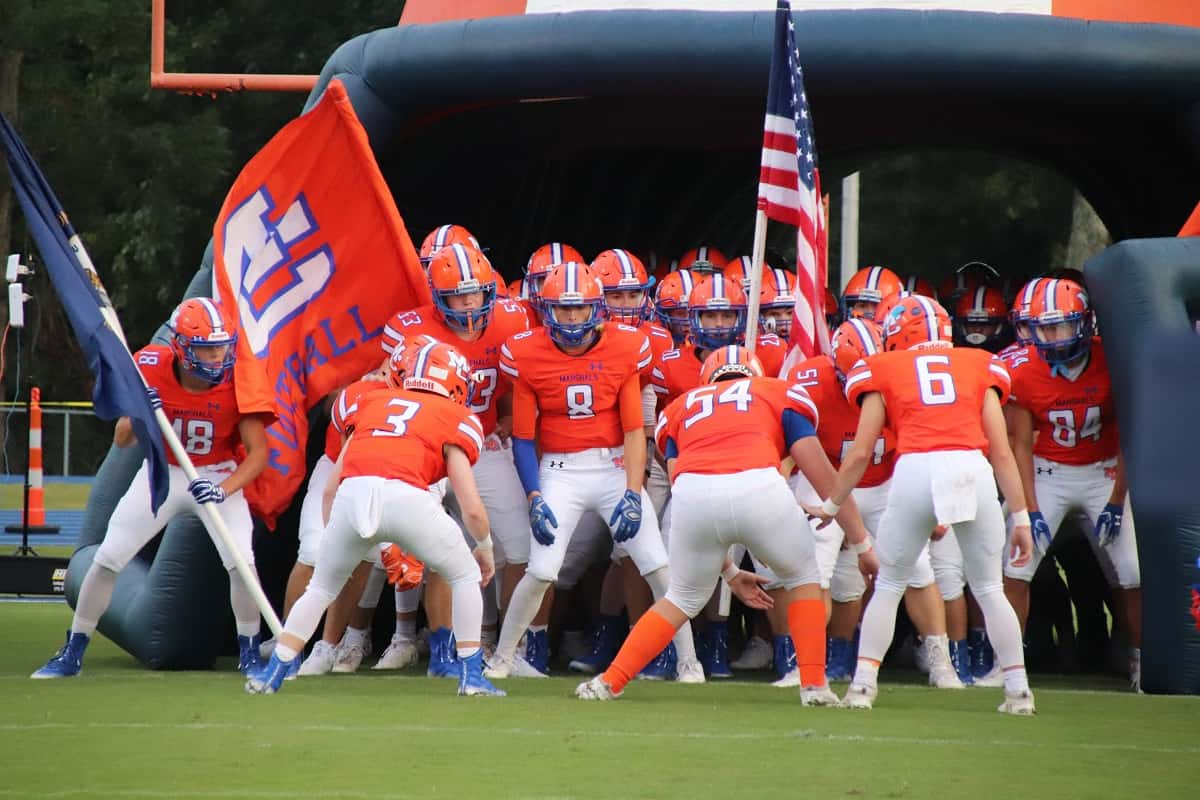 Marshall County and Ballard Memorial met in the third game of the season last year, amassing nearly 1,000 yards of offense between the two teams and a final score of 70-52, setting a new single-game scoring record. Friday's season-opener at home against the Bombers was not a repeat of last year's offensive battle but the Marshals came away with a nice 37-6 win to open 2019.
Most of the Marshals 239 yards of offense came on the ground – 214 yards on 35 carries – while the defense held the Bombers to 102 yards of total offense.
"A pretty complete ballgame I felt on both sides of the football", Head Coach Evan Merrick said. "We were able to establish what we wanted to do in the running game and on defense, I felt like we were pretty solid."
The Marshals had the ball five times in the first half and scored on each of the five possessions, starting with a 45 yard drive that found the end zone on a three yard run by senior Cody Sorrells. Sophomore kicker, Talon Smothers, added the extra point for the 7-0 lead, at 7:45 in the first quarter.
The second touchdown came with just over a minute left in the first quarter, a 52 yard drive highlighted by a 25 yard pass from sophomore quarterback Quinn Smith to senior Ty Buchmeier. Smothers tacked on the extra point to give the Marshals a 14-0 lead.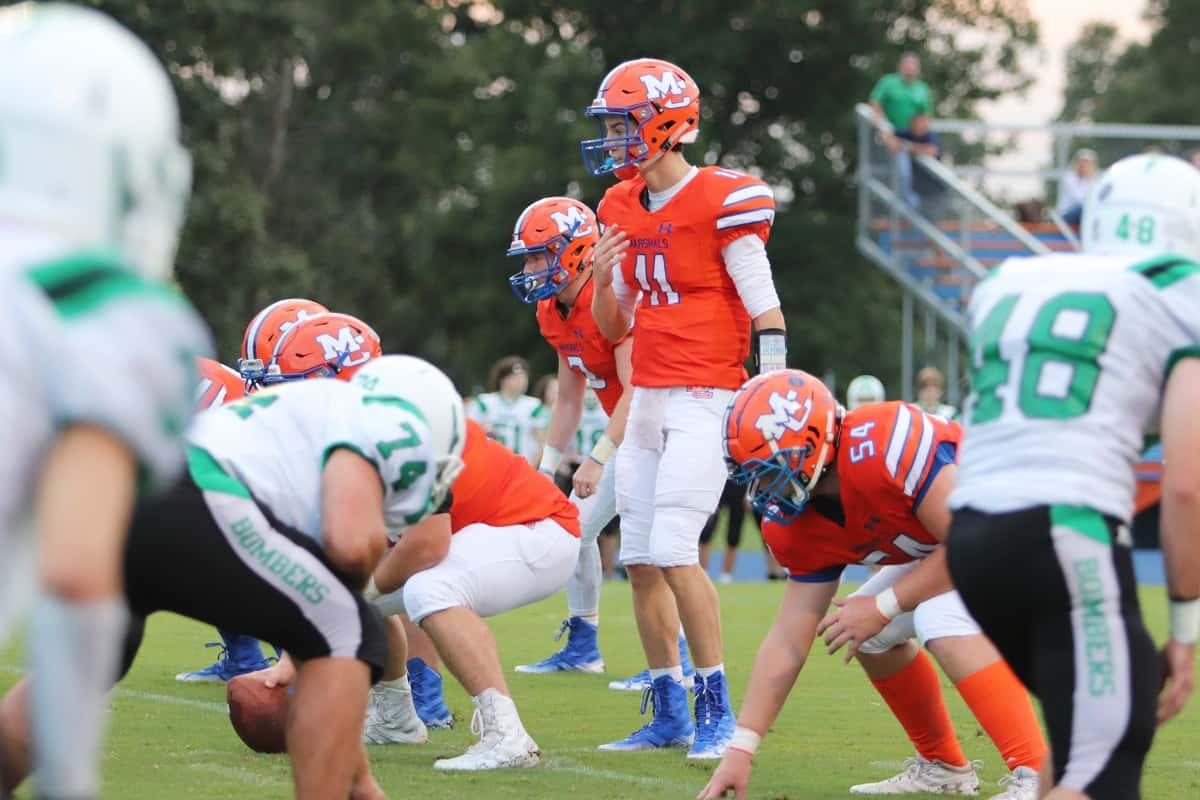 Seconds into the second quarter, Sorrells scored on an 11 yard run, the extra point good by Smothers and the Marshals went up 21-0.
A 79 yard drive was capped off with a three yard touchdown run by senior Luke Wyatt at 5:35 in the second quarter and Smothers made it four straight PATs for a 28-0 Marshall County lead. Smothers converted his first field goal of the season, a 40 yarder with 39 seconds left in the first half, to put the Marshals up 31-0 at halftime.
Smith scored on a two yard quarterback keeper in the third quarter, the point after attempt failed, for a 37-0 Marshals lead and a running clock the rest of the game. Ballard County found the end zone with 4:11 to go on a 24 yard keeper by quarterback Trevor Howard, the point after attempt failed.
Merrick said the team had a lot of confidence going into Friday's game and they are going to enjoy the win, but have a lot of work ahead of them to get ready for next week's game against Madisonville-North Hopkins, a 41-0 winner Friday over Union County.
Ballard        0    0   0    6
Marshall 14  31  37  37
Offense: Ballard 102, Marshall 239
Rushing yards: Ballard 95/24 carries, Marshall 214/35 carries
Ballard: Trevor Howard 4/27, Hargrove 5/22, Trenton Howard 9/20
Marshall: Wyatt 11/95, Buchmeier 5/54, Sorrells 4/25, Rayburn 3/18, Utley 2/15
Passing yards: Ballard 1 for 7, Marshall 1 for 25
Marshall: Smith 1/9 25 yards – Receptions: Buchmeier 1/25