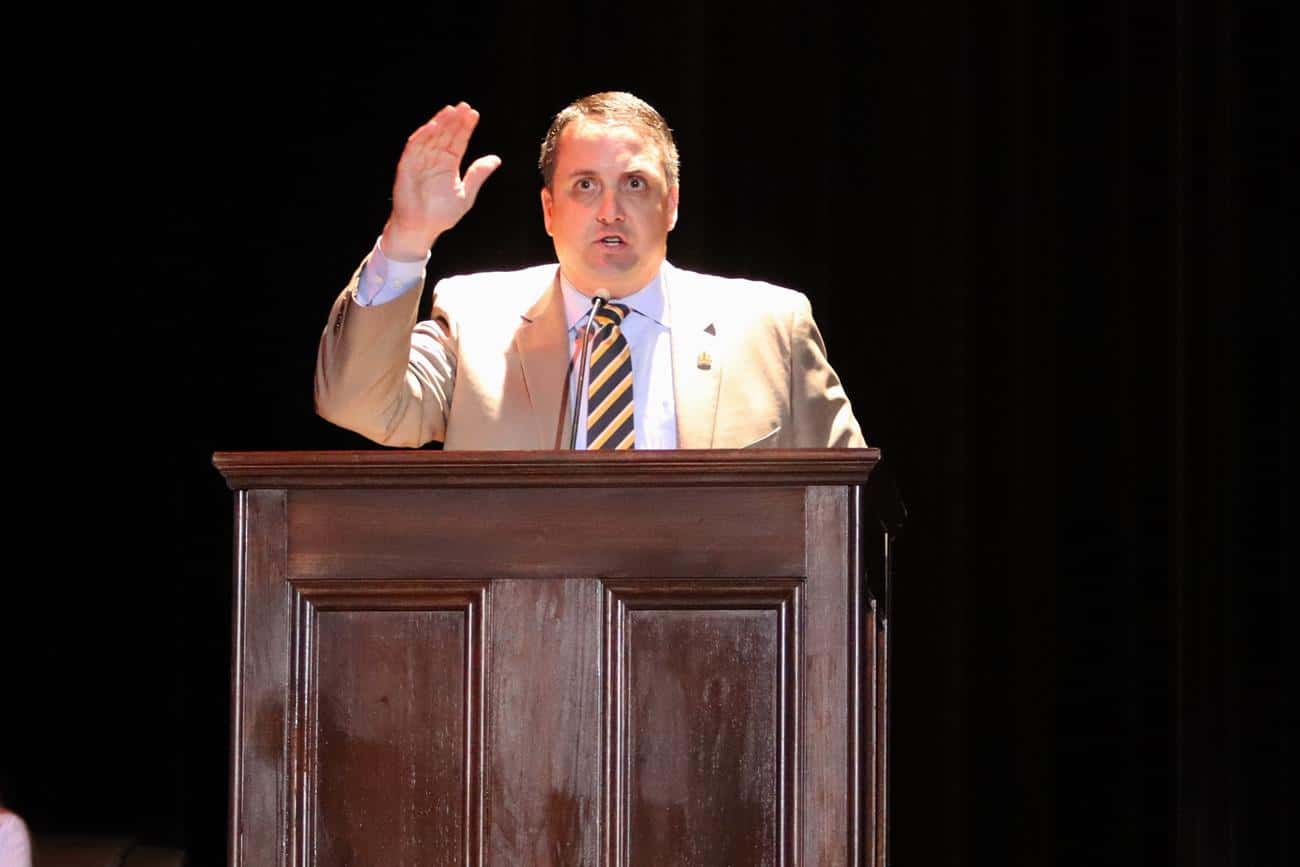 Marshall County Athletic Foundation Hall of Fame Class of 2019 was inducted Thursday in a ceremony at the Shadowen Performing Arts Center. The 10th Hall of Fame class all shared similar sentiments when recalling their days as a student-athlete – that it was an honor to represent Marshall County.
The evening began with guest speaker Kevin Saal, Murray State University Athletic Director. Saal said he is a firm believer in the power of the accomplishments of the athletes being inducted, not only for athletics but for life.
"They provide memories and fulfillment for a long time to come and it's a well from which you draw confidence for a lifetime", Saal said. "This is the beauty of sport, at any level, whether it's youth, high school or collegiate. Sports is a pathway through which life lessons are learned."
Saal said true champions – whether they be as a student, a person or player – all have distinctive qualities.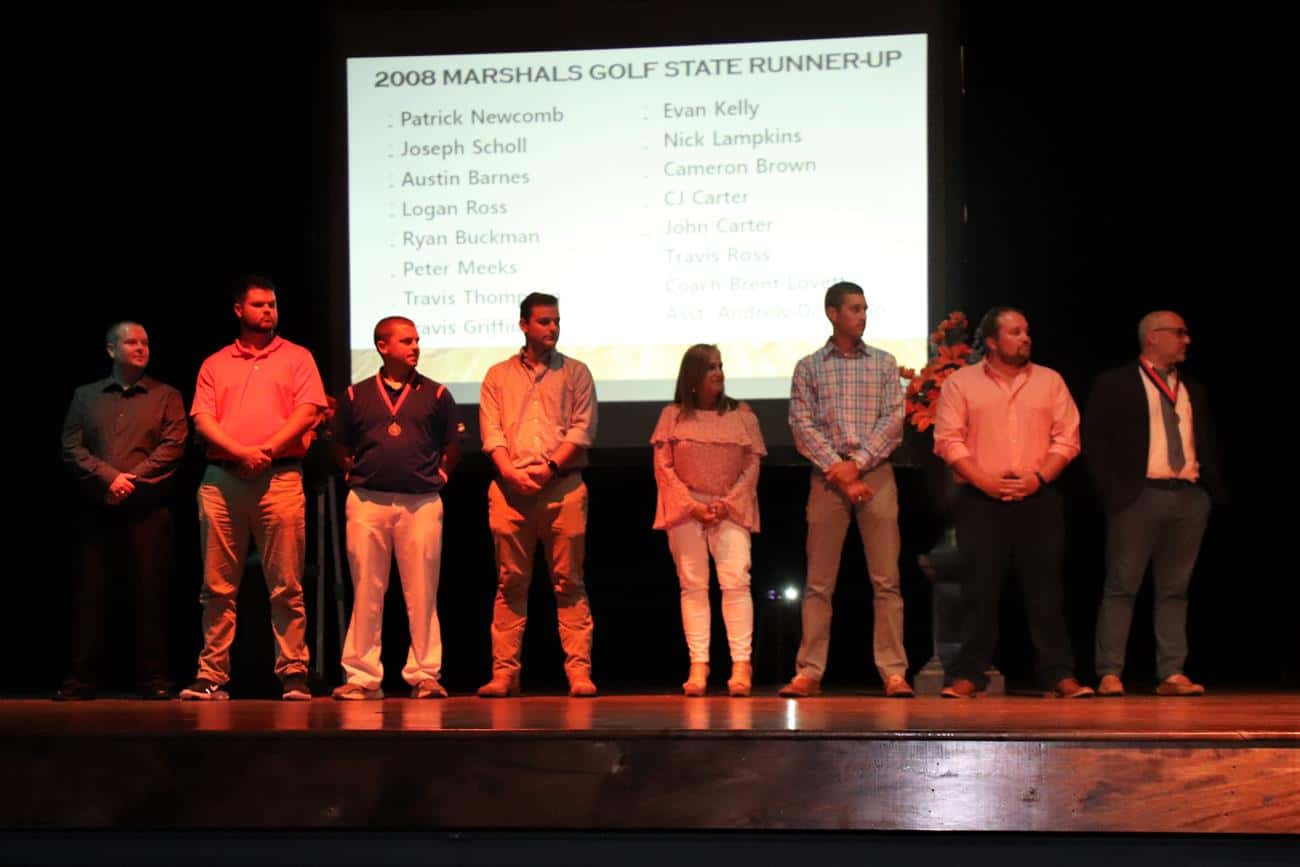 Marshall County High School senior student-athletes introduced the 2019 inductees, starting with  Ben Staples, who introduced the 2007 and 2008 MCHS boy's golf teams. After winning the regional championship, the 2007 team went on to win the KHSAA Golf State Championship by one shot with a score of 595. The 2008 team followed up the next season with another regional championship and returned to the state championship as one of the favorites. Battling St. Xavier throughout the tournament, the Marshals finished state runner-up with a score of 585. Coaches of the 2007 and 2008 teams were Paul Lamb and Brent Lovett and assistant Andrew Donohoo.
Members of the 2007 team: Cameron Brown, Travis Ross, Seth English, CJ Carter, Nick Lampkins, John Carter, Patrick Newcomb, Hunter York, Ryan Buckman, Peter Meeks, Travis Thompson, Joseph Scholl and Evan Kelly.
Members of the 2008 team: Evan Kelly, Nick Lampkins, Cameron Brown, CJ Carter, John Carter, Travis Ross, Patrick Newcomb, Joseph Scholl, Austin Barnes, Logan Ross, Ryan Buckman, Peter Meeks, Travis Thompson and Travis Griffith.
Coach Brent Lovett said when he took over the job as head coach, advice he received turned out to be 100 percent correct, "All you need to do is worry about getting them where they're going and make sure they have something to drink, because they're that good." Lovett said the team worked hard, they pushed each other each and every time they went on the course and that made them better players all around.
"There's only room for five to play in regionals and at the state tournament…there's plenty of room for all of them in the Hall of Fame and I'm so happy for you guys", Lovett said.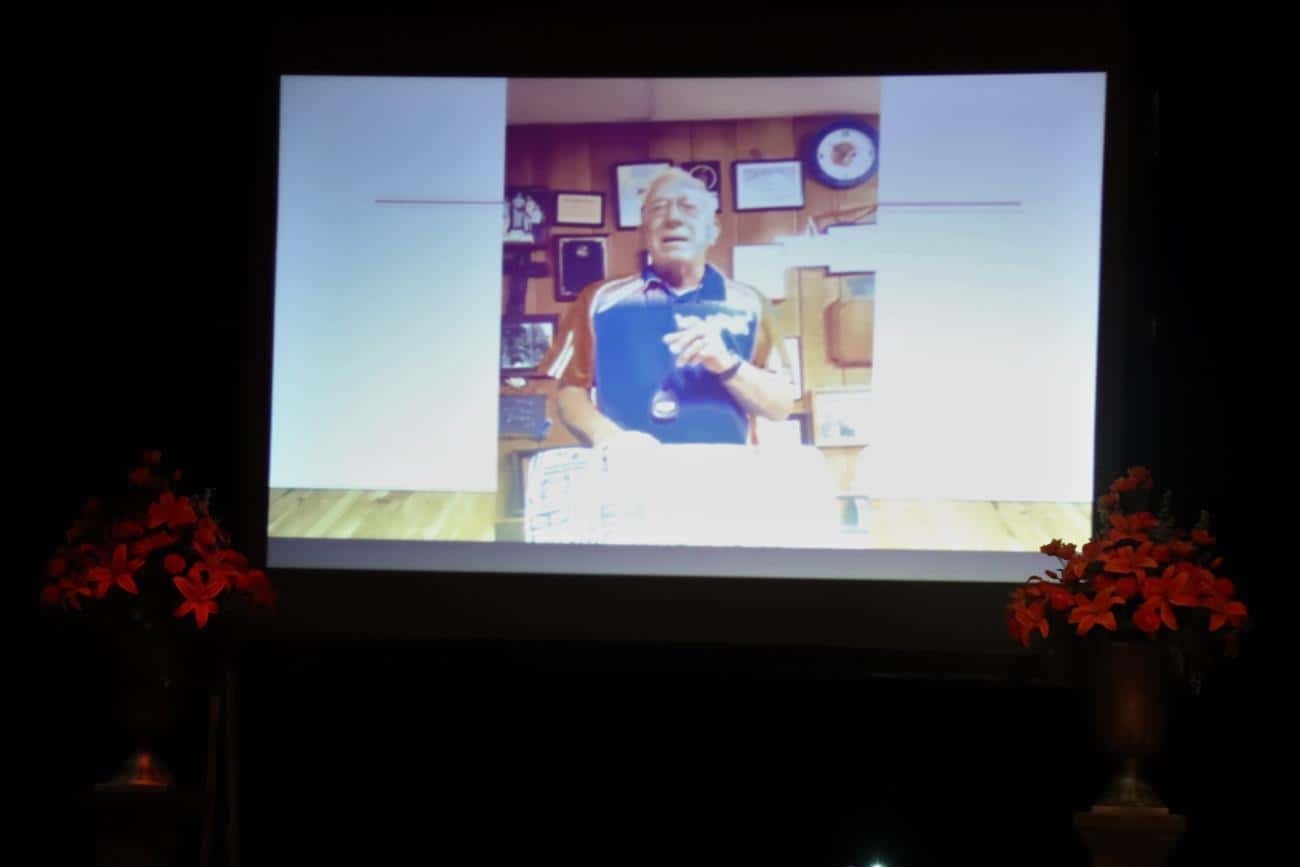 This years coach honored with induction into the Hall of Fame is Chuck Gullo who was introduced by Knox Sandlin. Gullo has spent nearly 50 years coaching cross country and track and field athletes, 20 of those have been at Marshall County. He pre-recorded a message that was played during the ceremony due to a previously scheduled trip.
Gullo spoke of the many coaches over the years that have influenced his life and said he always looked at coaching as teaching.
"Coaches made a big difference in my life", Gullo said. "I always wanted to be a coach. To make a difference in the athletes lives."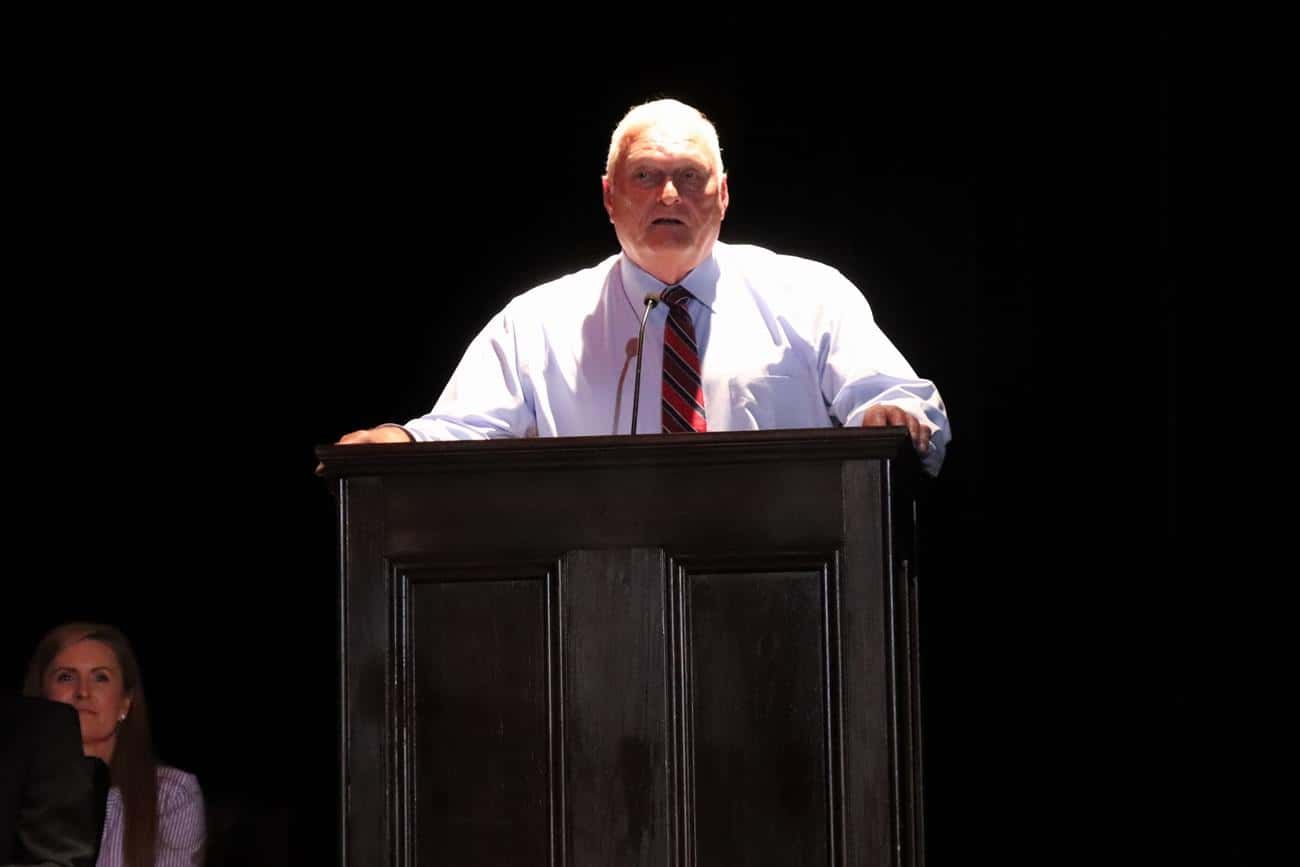 Jerry Hall was a standout basketball player at North Marshall from 1955-1958 and went on to play at the college level for Vanderbilt. He was introduced by Tyler Stokes. Hall began with this question – "Where were you in the fall of 1954?" Hall said in the fall of 1954, Marshall County had two new high schools – North Marshall and South Marshall.
"I was a freshman at North Marshall that fall", Hall said. "Our gymnasium was being constructed and one of those summer storms came along and blew the gym down. So if you wanted to play basketball there, you either had to practice at Calvert City's old high school or Sharpe's old high school."
Hall said the Board of Education provided them with an old beat up bus, and the coach drove them from North Marshall to whichever place practice was being held that day…but to get home, they had to hitch hike…which he did for four years.
"Basketball is a team sport", Hall said. "And every member of the team has a special thing that he can contribute to the success of the team. I want to thank every member of my team when I was there, for the hard work that they put in, in practice, to make our team successful. By making our team successful, several of us were able to receive a scholarship to the next level to play basketball there."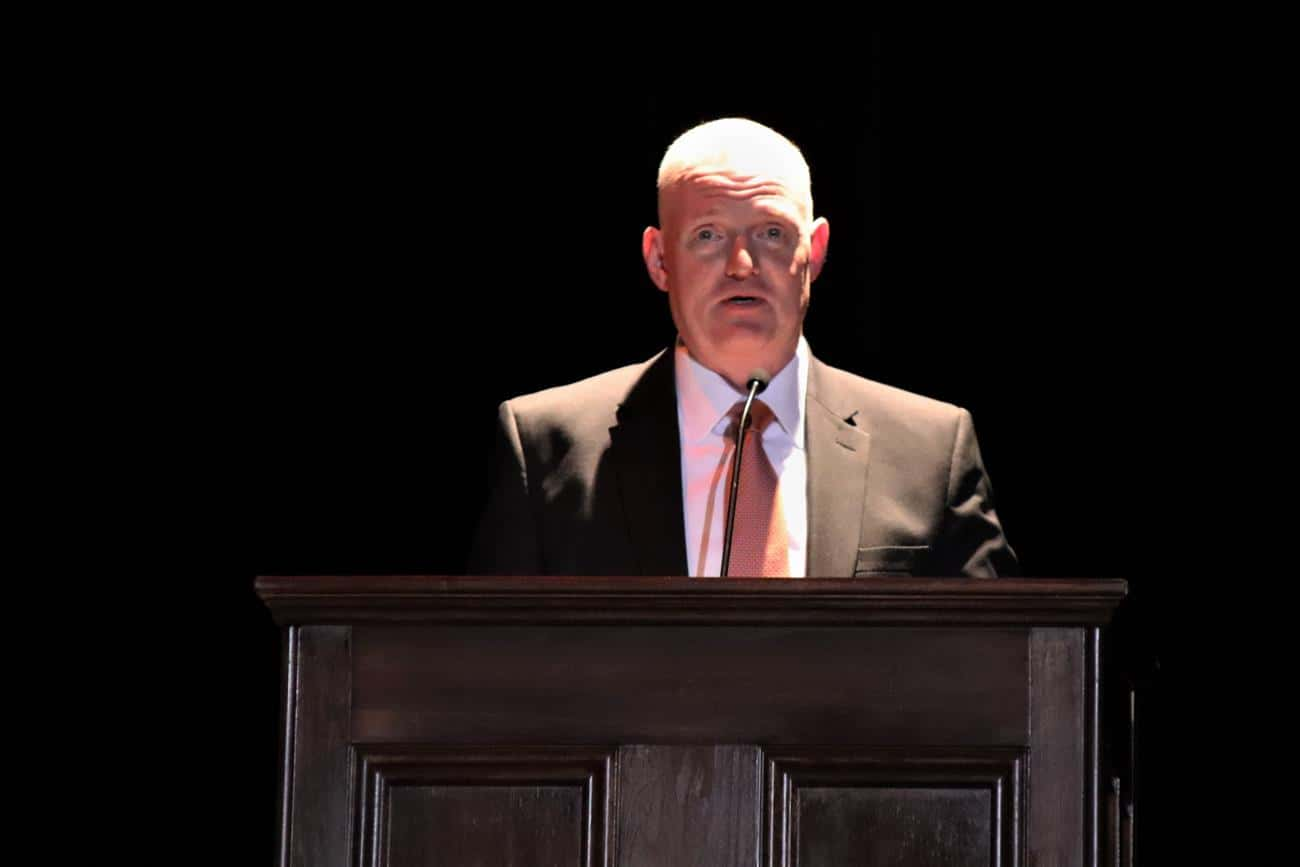 Riley Harris introduced the next recipient, 2008 football player Alan Williams. Williams, who lives in New York, was unable to attend the ceremony. He was instrumental in the 2007 Marshals reaching the 6A state quarterfinals and is in the KHSAA top 25 in career touchdowns with 25 and receptions with 161. He holds the MCHS record for career rushing yards with 5,021 and 2,200 career receiving yards.
Jeff Waters recalled Williams talent on the football field and said, "In my 25 years of calling football games, he is the best football player that I have seen put on a Marshall County uniform." Water's said his numbers speak for themselves, but added that Williams was multi-talented on the field, also with special teams, on defense, and had a tremendous will to win.
"I recall him being recruited by several bigger names in football than Franklin and Marshall College", Waters said. "We were down in the field house one day and I asked him where do you think you want to go to school? He said Mr. Waters, I know I'm not going to play pro football. I want to make sure that I go somewhere where I can play, but I can also get the best education that I can get."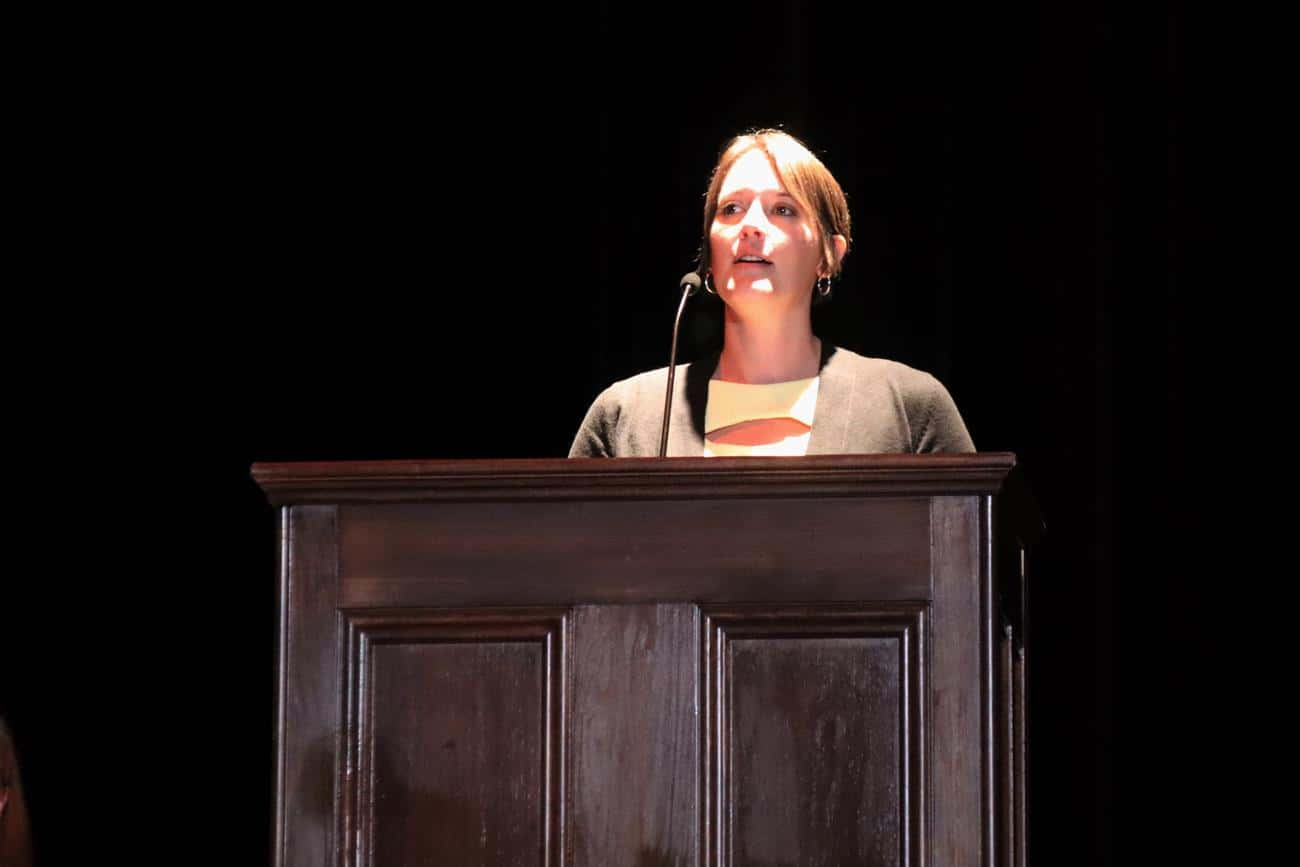 Adrienne (Gann) Cathey was a pitcher for the Lady Marshals softball team from 1998-2003 and was introduced by Kaycee Kemp. Cathey went on to pitch for Freed-Hardeman University from 2003-2007. Her career record at Marshall County was 83-65, striking out 750 hitters with four no-hitters.
"All of this started because of my dad, Ray Gann", Cathey said. "He is one of the main reasons that softball is what it is in Marshall County. When we moved here in fourth grade he realized there was something missing. We had slow-pitch softball for rec leagues and then we had the high schools that were playing fast pitch."
Cathey said he realized that the younger girls needed to learn fast pitch so they could be competitive when they reached the high school level.
Because of him, Cathey said they were able to do what they loved and make friendships that last a lifetime. Five of Cathey's teammates she grew up with and played with, were there for her induction into the Hall of Fame.
"Something my dad would always say", Cathey added. "It's always a great day to play softball".
Jeremy Story, Marshall County basketball player from 1991-1995, was introduced by C.J. Johnson. He is the all-time assist leader at MCHS with 624 and holds the single-season assist record from the 1994-95 season with 263. Story ranks sixth on the school's all-time scorers list with 1,460 points. He played at Murray State University in 1995-97.
"The only thing I ever wanted to do growing up was to play basketball for Marshall County High School", Story said. "It was an incredible honor to put on the orange, blue and white and to be honored with the folks that came across this stage tonight and the previous inductees is kind of mind-blowing to be honest."
Story recalled his days as a young child and the players that came before him that made such an impact on his life. He spoke of rarely missing a game at Reed Conder Gymnasium and the thrill of being in that atmosphere during a game with a gym full of cheering fans and knew that was something he wanted to be a part of.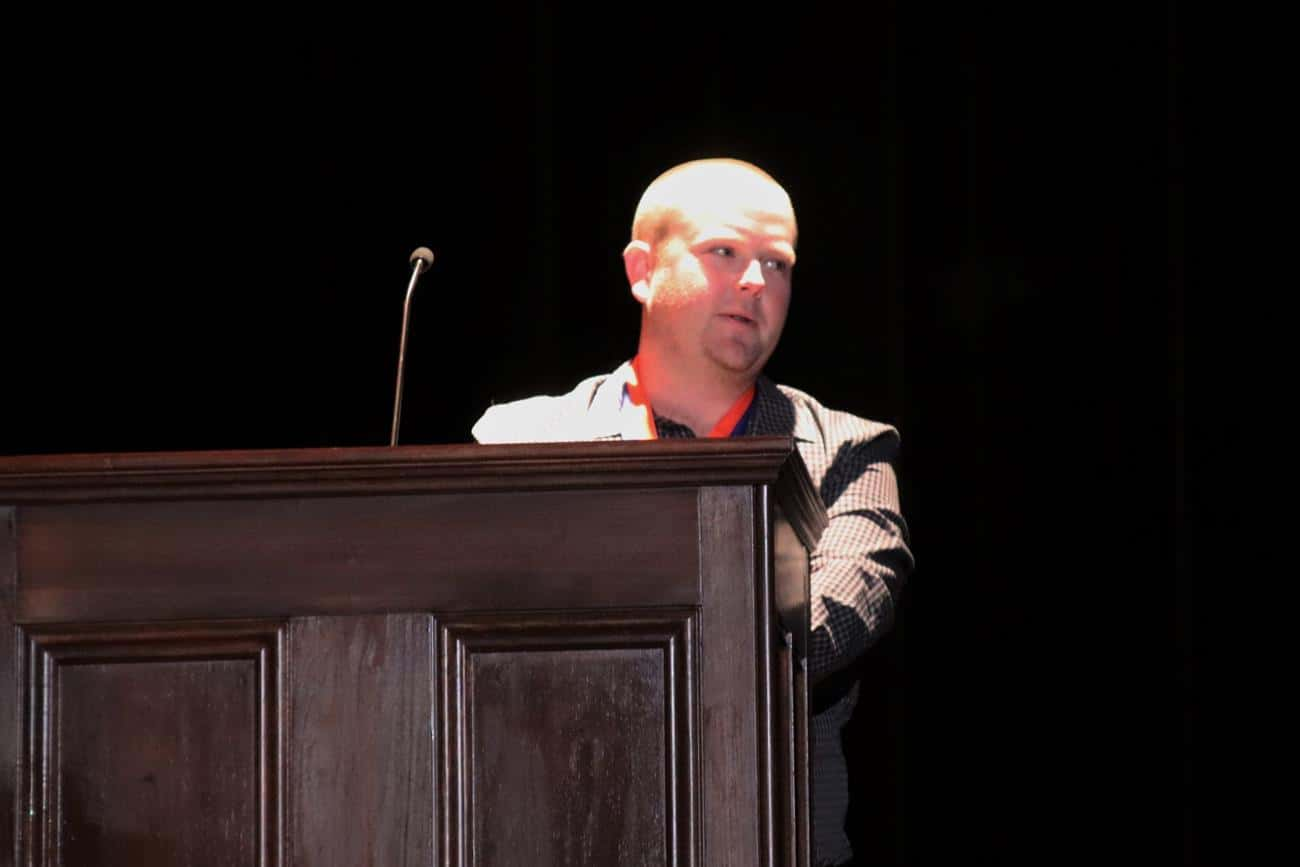 Travis Thompson, a member of both the 2007 and 2008 golf teams inducted into the Class of 2019, was introduced by Tyler Powell. In 2007 he was the individual state champion and named Mr. Kentucky Golf and in 2008 was individual runner-up at the state tournament. Thompson went on to play golf for Murray State University.
Thompson credited his family with teaching him the importance of patience, honesty, responsibility, humility, kindness and a good work ethic.
"They provided me with limitless opportunities", Thomspon said. "They took me all around the state when I was young and let me compete against the best, even people like Justin Thomas, who I watch on the PGA tour today and think…dang, that could be me. I beat him a few times when we were younger."
Thompson said although he is honored to be inducted as an individual, he is most exited to be able to celebrate the night with his teammates.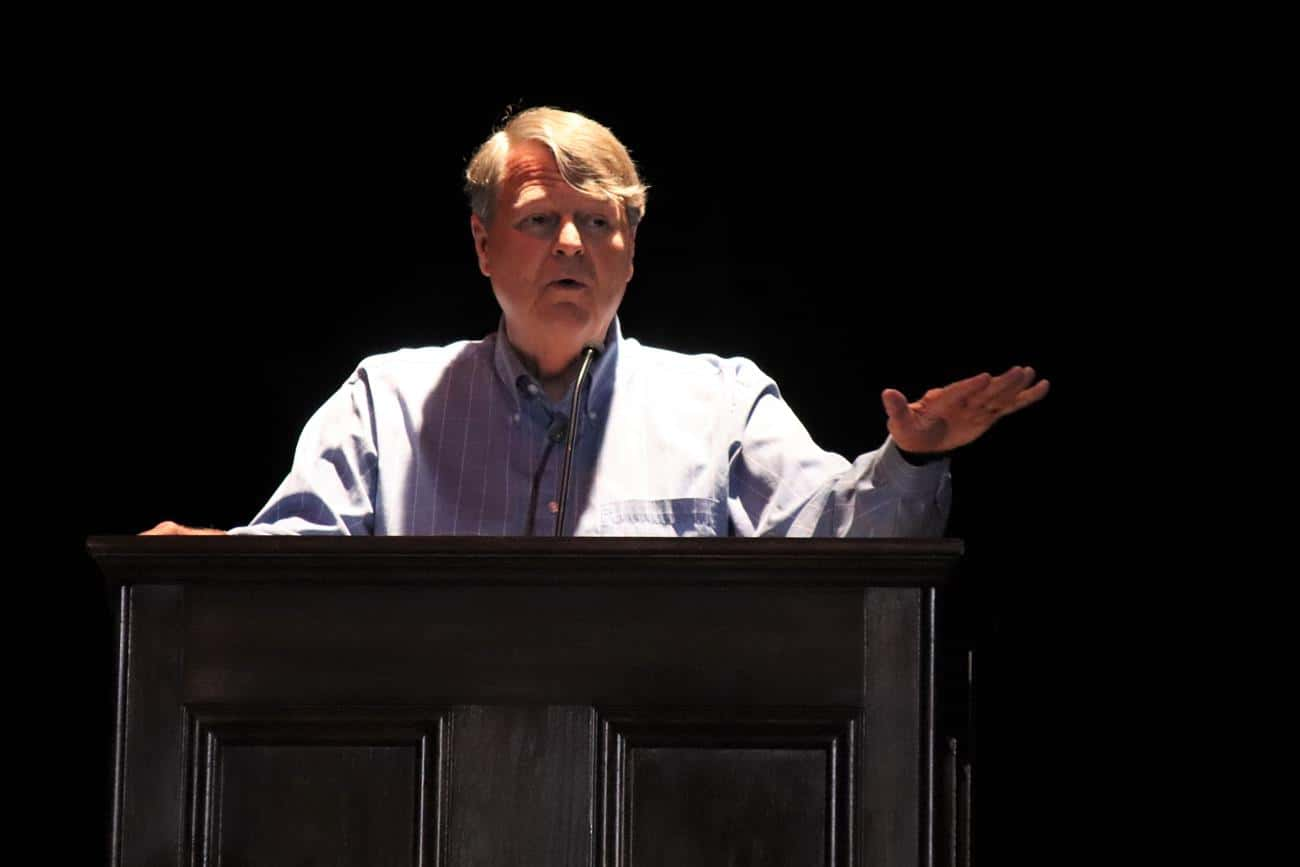 Dr. Richard Colburn was inducted as a contributor and is known as the godfather of soccer in not only Marshall County but throughout western Kentucky and was introduced by Sydney Temple. Colburn was a visionary in youth soccer and his efforts led to the great success the Marshall County programs enjoy today.
"This honor should be shared with the community and the school system", Colburn said. "In the early 80's I read in Newsweek magazine how good soccer was and it didn't embarrass kids…someone didn't strike out the last out, drop the ball or miss a last goal…so I thought maybe it would be good to look at it."
Colburn said he found soccer balls in Paducah, about six of them, then starting calling around and forming teams. When he began to ask for coaches, no one knew anything about soccer and he said he didn't either. He said trying to understand the game was complicated because no one had ever played.
"The coaches had to mow the fields, line the fields and they had to referee because they were the only ones that had read a book on it", Colburn said. "The fans were quiet in the stands for the first two years, then they read a book…and they were experts. So the referees got a lot of flack."
The program was building in Calvert City and in the early 1980's, they worked to get a high school team started and with the support of the administration…the rest is history. The Marshall County High School soccer field is named after Colburn.
Marshall County Athletic Hall of Fame board members are Jason Darnall (President), Rick Leeper, Bill Morgan, Monti Collins, Steve Fisk, Dax Myhand, Dennis Foust, Donna Perry, Barney Thweatt, Beverly Solomon, Mike Johnson (Athletic Director), Brent Lovett, Jeff Stokes and Steve Smith.
More photos and senior student-athletes who introduced the Hall of Fame inductees below. Click on a photo to scroll through the gallery.