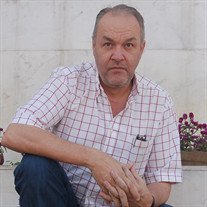 Dexter Carl Slaughter of Murray, Kentucky, known as Carl by his friends, died August 11, 2019 in a car accident north of Murray.
He was born 25 June, 1958 in Shreveport, Louisiana to parents Joe Pat Slaughter and Doris Joan (Graham) Slaughter. He graduated from Marshal County High School and went on to earn a BA in Journalism and Broadcast at Murray State University.
Carl was a globe-trotter from an early age, spending time in Okinawa and the Philippines due to his father's service as a C-130 flight engineer and crew chief during the Vietnam War. In the past 17 years, he traveled the world teaching ESL (English as a Second Language) in 6 countries on 3 continents. His Facebook page, "ESL Around the World", compiles dozens of photos of him with the children he taught. They clearly loved him.
Carl wrote more than 250 reviews, interviews, features, and critiques for Tangent, Diabolical Plots, SF Signal, File 770, and the Critters Workshop. His essay on Chinese culture was published in Beijing Review. His essay on Korean culture was published in The Korea Times, as was his exposé on the Korean ESL industry. For several years, he was editor of ESL Book Review.
He made many friends in his years of travel, but also returned periodically to Western Kentucky and Arizona to maintain strong ties to Kentucky, his family, and his church.
He is survived by his older brother Paul Eugene Slaughter of Landisburg, Pennsylvania, and younger sister Elizabeth Ann Slaughter of Round Rock, Texas.
The family will receive friends from 3 to 5 p.m., Thursday, September 12 at Collier Funeral Home. A memorial service will follow at the same location.
In lieu of flowers, contributions may be made to Book Aid International (<https://bookaid.org/>) or World Literacy Foundation (<https://worldliteracyfoundation.org/>).