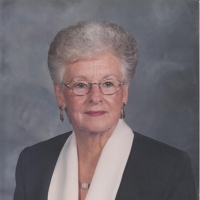 Mrs. Cloteen Wooley, age 87, of Mayfield passed away on Monday, August 12, 2019 at Ray & Kay Eckstein Hospice Care Center in Paducah, KY.
She attended Chief Cornerstone Baptist Church and was the retired owner of Cloteen's Beauty Shop.
Mrs. Wooley is survived by one son, Danny Joe (Linda) Wooley of Paducah, KY; one daughter, Karen Wooley (Gary) Beane of Hickory, KY; four step-daughters, Brenda Reed, Lori (Vic) Benavides, Donna Lee and Jnanda (Brent) Hargrove all of Mayfield, KY; one brother, Wilford Lamkins of Hot Springs, AR; ten grandchildren; and nine great grandchildren.
She was preceded in death by her first husband, James Hayden Wooley; her second husband, Kenneth McAlpin; five brothers, Dalton Lamkin, Conley Lamkin, Charles Lamkin, Jack Lamkin and Robert Lampkin; and her parents, Doffis and Eva Goins Lamkin.
Funeral services for Mrs. Cloteen Wooley will be 2:00 p.m. on Wednesday, August 14, 2019 at Byrn Funeral Home in Mayfield, KY.  Interment will follow at Liberty Cemetery.
Pallbearers will be Hayden Jones, Deron Wooley, Steve Thomas, Jerry Lamkin, Eddie Inman and Mike Beane.  Honorary pallbearers will be Emily Wilson and Garin Wilson.
Visitation will be 11:00 a.m. – 2:00 p.m. on Wednesday at the funeral home.