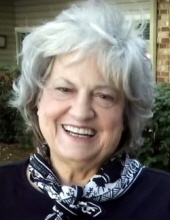 Joyce A. Case, age 79, of Dickson, TN, eldest daughter of the late Thomas "T.H." Braden and Emily Josephine Braden, devoted wife, mother, grandmother, great-grandmother and friend passed away quietly on Sunday, August 11, 2019.
Joyce is survived by her loving husband of 63 years, Gary Neal Case, Sr., and is beloved and precious to her children, Felicia Case, Sheila Case Darnell, Gary Case Jr., and grandchildren, Aria Case Thomi Graf, Amber Case, Neal Case, Ivy Stephenson, Stacy Darnell, and Chelsea George, along with 9 great-grandchildren. She is also survived by one brother, James Braden, and sisters, Linda Braden Roberts and Vicki Braden (of the Memphis area).
A visitation and sharing of love and celebration of Joyce's life will be held at 1:00 p.m. Wednesday, August 14, 2019 at Milner & Orr Funeral Home of Bardwell, 51 US-N, Bardwell, KY 42023 followed by a 3:00 graveside service at the Roselawn Cemetery.
Joyce has always been well known for serving others, caring for those who were sick, and even leaving balloons on mailboxes for birthdays of most everyone she knew. She gave lovely afternoon teas for her church family and friends. Known for her beautiful touches, she had a gift closet always ready, and would leave chocolates on your pillow if you stayed the night. She loved travel and always felt excited when going on a trip.
Fond memories and expression of sympathy may be started at www.milnerandorr.com.
Arrangements made by Milner & Orr Funeral Home of Bardwell. Read More »