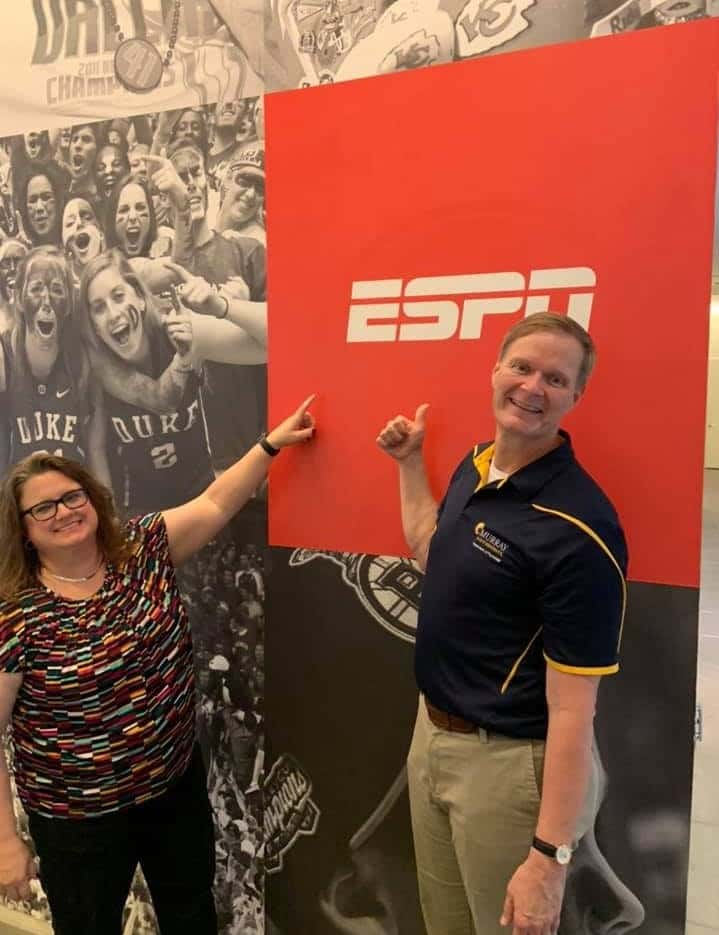 Murray State psychology professor Dr. Daniel Wann was the invited speaker for ESPN's prestigious Newsmakers Series. Accompanied by his wife Michelle, Wann was first hosted at the New York City ESPN broadcast offices.
After a showing of the ESPN documentary "Dr. Fandom" that profiled him and his sport fandom research, Wann gave a keynote address. In his presentation, "The ABCs of the Psychology of Sport Fandom: What We Know and Where We Should Go," Wann talked about how the relationships fans have with their favorite teams and players have a powerful impact in their lives and about issues that will likely lead to changes in fandom.
The next day, at ESPN's national headquarters in Bristol, Connecticut, Wann was recognized as one of ESPN's Newsmakers. Wann, the first academic to be invited to join the ESPN Newsmakers Series, gave a talk on his journey as a sports fan and sport scholar and discussed what has and what has not been studied within the psychology of sport fandom. Previous speakers for the Newsmakers Series include comedian Jon Stewart, journalist Tim Russert, documentary filmmaker Ken Burns, Los
Angeles Lakers president Jeanie Buss, musician Willie Nelson, Oakland A's general manager Billy Beane, and former U.S. Secretary of State Condoleezza Rice.
"Michelle and I really enjoyed our time in New York and Bristol!" Wann said. "The ESPN facilities were quite impressive and the tour of their studios gave us a unique perspective on the operations at ESPN. It was truly an honor to be a part of the Newsmakers Series. Academics rarely have this type of opportunity and I'm extremely thankful for the chance to speak to their employees."