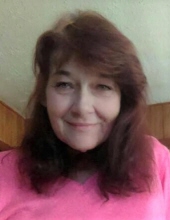 Angela Gayle Moore Schaffner, 56, of Arlington, KY passed away at 12:19 p.m. Tuesday, July 16, 2019 at her residence. She was a License Practical Nurse for ICF Nursing Home in Clinton, KY. She was a member of Oak Grove Baptist Church.
She is survived by her husband, Ralph Joseph Schaffner; daughters, Cari Moore of Hickman, KY and Stacie Byassee of Milburn, KY; son, Thomas Moore of Milburn, KY; sister, Jessica Bruer of Bardwell, KY; brother, Tim Chaney of Kirksey, KY and 10 grandchildren.
She… was preceded in death by her parents, John Wayne Chaney and Patricia Gertrude McGee Chaney.
Graveside services will be at 11:00 a.m. Saturday, July 20, 2019 at Columbus Cemetery with Rev. Mark Lambert officiating.
Visitation will begin at 9:30 a.m. Saturday at Milner & Orr Funeral Home of Arlington.
You may light a candle or leave a message at www.milnerandorr.com