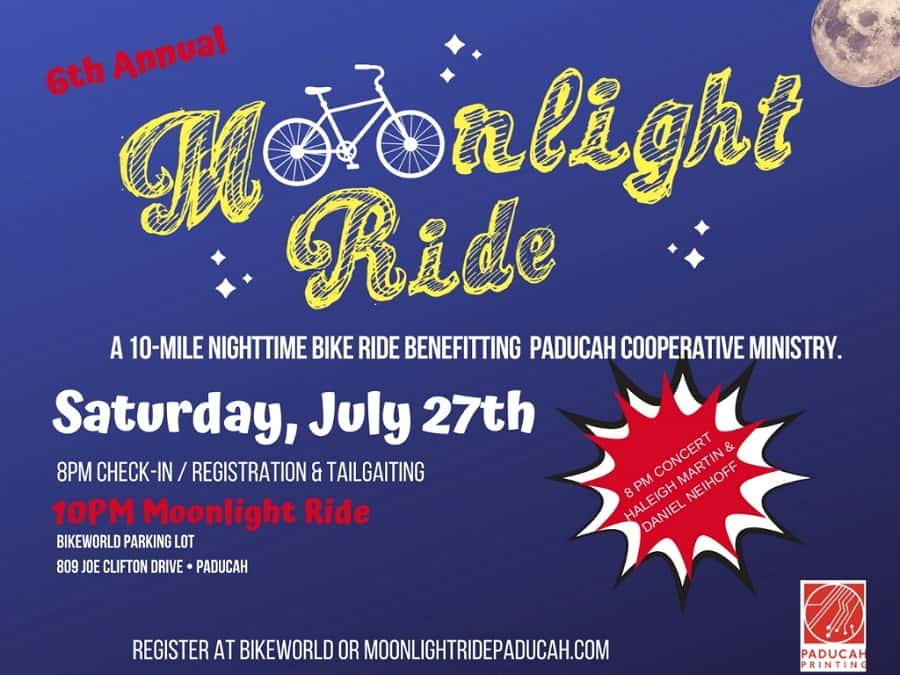 Summer evenings are time for magic. After the heat of day is abated and put to rest, LIFE feels comfortable again. It would be the perfect time for a nighttime ride. What could be more charming? How about sharing that ride with your friends and neighbors on bicycles in a 10-mile, moonlight bike ride?
You can do just that on Saturday, July 27 at the Moonlight Ride in Paducah! The cycling adventure is an easy ride, starting and ending at BikeWorld (809 Joe Clifton Drive) and circling through downtown.
Proceeds from the 6th annual ride will benefit Paducah Cooperative Ministry and their mission of offering emergency food assistance, a homeless shelter for woman and children, utility disconnection and eviction prevention assistance, as well as a residential facility and programs for homeless women who have been incarcerated.
Helmets and bike lights are required, and glow-in-the-dark bike decorations are highly encouraged. Rider check-in and registration kicks off at 8 PM on the BikeWorld parking lot at 809 Joe Clifton Drive. Enjoy live music from local artists Daniel Neihoff and Haleigh Martin and grab a cold treat courtesy of the WOW! Wagon, Paducah Bank's ice cream truck along with watermelon from First Baptist Church and free commemorative buttons from the McCracken County Library. Glow merchandise will be available while supplies last. The ride will leave from BikeWorld at 10 PM and is ride at your own pace.
For more information and online registration, visit moonlightridepaducah.com.