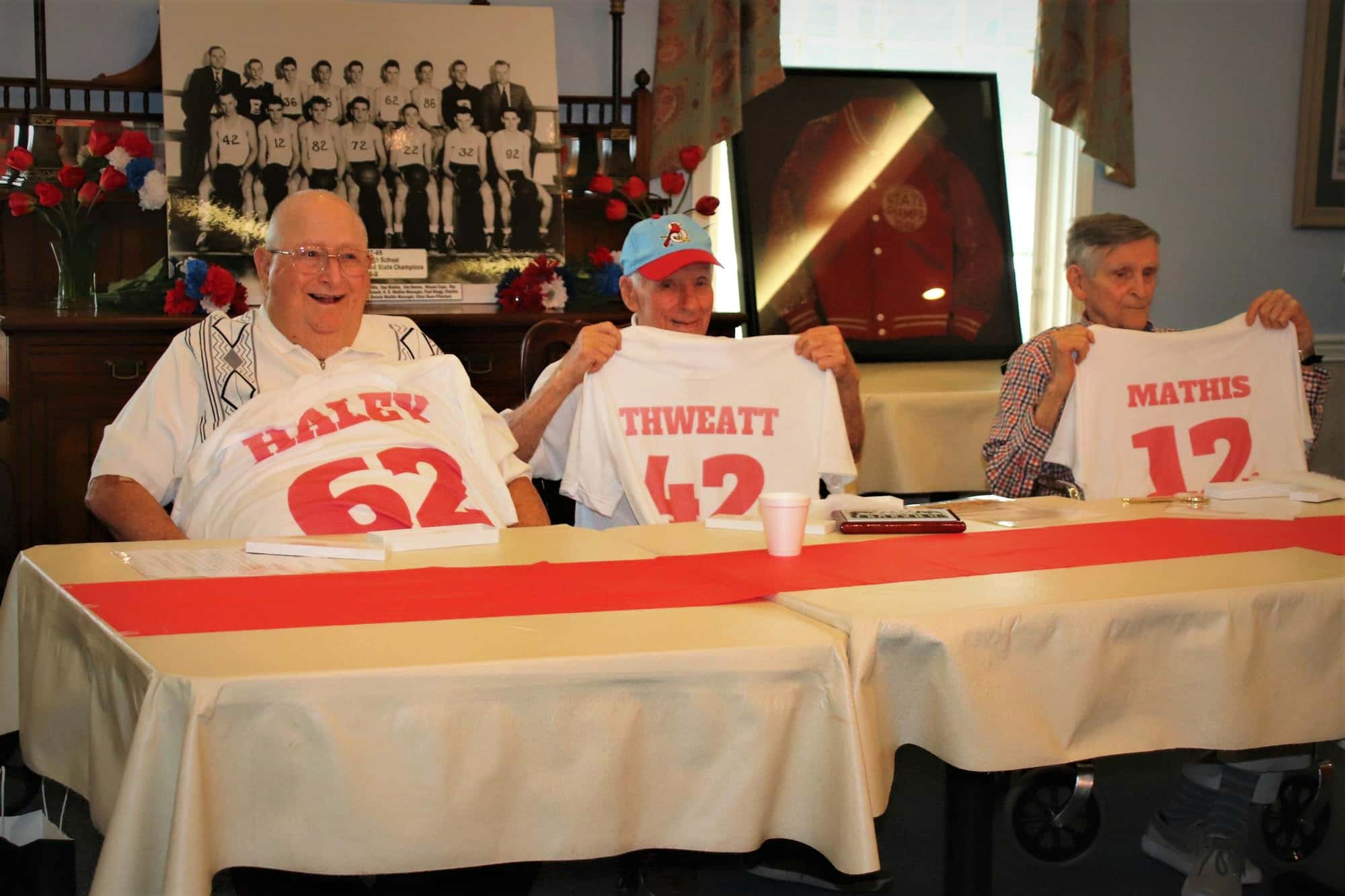 It's rare to have a day named after you as was the case in late June when the Kentucky House of Representatives declared June 27, 2019 as "Barney Thweatt Day". Even more rare are those honored with two days – commemeorated on Friday at The Stilley House when Benton Mayor Rita Dotson proclaimed July 12 as "Barney Thweatt, Tom Mathis and Neal Haley Day" – an honor bestowed on three very deserving gentlemen.
Barney, Tom and Neal were teammates on the Brewer's Redmen basketball team that made it to the 1947 State Championship game where they lost to Maysville and the 1948 State Championship team that defeated Maysville (55-48) to win the title in a rematch of 1947 and finished the season 36-0, a record that still stands today.
Along with sharing a history of basketball, the three have also shared a common residence of late at The Stilley House in Benton. Barney and Neal currently reside at The Stilley House, while Tom – a former resident – now lives in Paducah, closer to family.
The Stilley House presented the three with matching t-shirts with their Brewer's number on the back, and on the front read "Brewer's Redmen – 1947-48 – Still Undefeated – 36-0"
Mayor Dotson and the Benton City Council presented the three with a copy of the proclamation and a Key to the City.
Barney addressed those gathered and as in usual fashion, wanted to take the focus off of him and on to his Redmen teammates. Three players a part of something historic, yet humble in their accomplishments.
Barney said of Tom – "He played all positions…he came into the game as a substitute and played any position and played four years with us."
"Neal played three years and they were both rugged and took a lot of beating in practice", Barney said. "You can't have a good team unless you have good practice players that you play against, good defenses…good offenses…you've got to plan your game around your opponents. They contributed as much as anybody that ever played. I just want to thank them and I want to give them a big round of applause."
Another connection to the Brewer's team in attendance Friday was Stilley House resident Carla Marshall whose dad Charles Stone, was also a member of Brewer's team. Carla also happens to be the niece of Barney Thweatt. Her father, Charles, passed away a couple of years ago.
The 1947 and 1948 Brewer's teams were inducted into the Marshall County Athletic Foundation Hall of Fame in 2009.