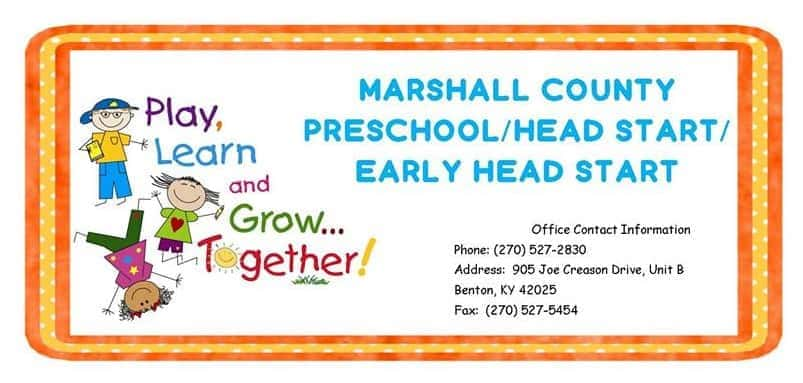 Registrations for new Preschool and Early Head Start applicants will be held on July 2nd, 8:30 AM to 5:00 PM at the Woodmen Building located at 1005 Poplar St in Benton. No appointment is necessary for this event.
Prior to July 2nd registration, parents/guardians are encouraged to pick up packets at the Preschool Head Start Office, located at the rear of the building at 905 Joe Creason Drive in Benton. At registration the parent/guardian must provide the child's proof of birth and proof of the household income for the past 12 months including child support and state/federal benefits.
To register for preschool, the child must be a Marshall County resident and age 3 or 4 by August 1, 2019. Eligibility is based upon federal income guidelines or developmental delay or disability, regardless of income.
Early Head Start is a home-based option for pregnant moms and children up to the age of 3 which provides child development education and family support. Families must meet income guidelines to qualify.
Marshall County Preschool Screenings will be held on August 23 at Benton First United Methodist Church. Screenings are available to Marshall County residents with concerns about a child's development and any new families registering for the Marshall County Preschool program. Screenings are by appointment only, if you wish to schedule your child's screening appointment call the Preschool Office after July 24th at (270) 527-2830.
Head Start staff can assist families to understand and access transportation options in order to
participate in Head Start program activities.