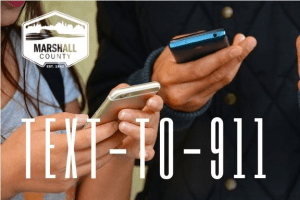 (BENTON, KY, JUNE 5) Marshall County E911 will soon begin offering a new way for citizens to contact 911 by joining three other Kentucky PSAP's offering Text-to-911. Text-to-911 is an initiative that emerged as a result of the Virginia Tech campus shooting when multiple students tried to text 911 for help, but dispatch never received them. This program urges emergency call centers to accept text messages through specialized technology in cooperation with cell phone service providers.
This new option in contacting 911 will allow those in situations where they cannot safely make a phone call to contact 911 in a discreet way. Appropriate situations for utilizing Text-to-911 could include an abduction, home invasion, active shooter, or home invasion situation. The service will also provide a way for the deaf and hearing impaired or those who are unable to verbally communicate a way to receive 911 assistance.
How to contact 911
If you use a wireless phone or other type of mobile device, make sure to do the following in an emergency:
▪Always contact 911 by making a voice call, if you can.
▪If you are deaf, hard of hearing or speech disabled, and text-to-911 is not available, use a TTY or a telecommunications relay service, if possible.
▪Remember that in most cases you cannot reach 911 by sending a text message.
Bounce-back messages
If you attempt to send a text to 911 where the service is not yet available, FCC rules require all wireless carriers and other text messaging providers to send an automatic "bounce-back"
message that will advise you to contact emergency services by another means, such as making a voice call or using telecommunications relay service (for persons who are deaf, hard of
hearing or have a speech disability). Bounce-back messages are intended to minimize your risk of mistakenly believing that a text to 911 has been transmitted to an emergency call center.
An inaugural text will be sent on Tuesday, June 11th at 3:30 PM at the Marshall County E911 center. The media is invited to attend to learn more about Text-to-911 and the potential this
system has for the citizens of Marshall County.