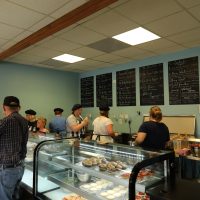 I know lots of people have been asking "What the 'Crepe' is going on at the old Subway?" Well the wait is over….A new Locally Owned and Operated French-inspired restaurant will be opening tomorrow, June 1st!  They will feature both Savory and Dessert Crepes plus Muffins, Salads, Sandwiches and MORE!  The Crepes are made to order right before your eyes on one of their 4 crepe griddles.  They also have a Gluten Free Crepe Option Available!
I sat down with one of the owners today, Jenny Darnall, to chat about what they will be offering and found out that their daily specials will be something you won't want to miss!  They will have a Casserole and Quiche of the Day.  Their Casseroles will also be available FAMILY STYLE!  This will be great options for a quick dinner.  You can get them frozen or ready to eat.
Starting TOMORROW JUNE 1st their Hours will be 6:30am t0 8:00pm through the Summer!  This means Breakfast, Lunch, and Dinner right in the heart of Benton! Their phone number is 270-387-0020 and you can CHECK THEM OUT ON FACEBOOK!
Jenny also let me in on another BIG thing they will be rolling out with Cafe Celebre on MONDAY, JUNE 3rd…..ONLINE ORDERING!!  This will be available on their website at www.cafecelebre.com!  This will allow you to put in your office lunch order easier, and get that dinner order in while you are at the ball field or thinking about dinner on your lunch break!
Another cool thing at Cafe Celebre is the TROTS Gifts.  TROTS stands for Three Retired Old Teachers, which consists of Amy Waggoner, Kem Cothran, and Denise Rudolph.  They have some super cute items on their shelves, so if you need a neat little gift for some one (or something for yourself) be sure to check out these items!